From packability and nutritional power to ease of consumption and deliciousness, outlined below are eight go-to hiking snacks for any length of trip.
Sometimes the most satisfying moment on a hike isn't stumbling upon a beautiful waterfall, or spotting a rare bird, or even making it to the vista just as the sun rises – sometimes the most exciting part of a hike is the moment you reach into your pack and pull out the perfect snack. You know the one… that snack you've been craving all day, the treat that's going to save you from your afternoon energy crash, the one that appears just in time to save your hike from turning into Type 2 Fun. Whether you're heading out on a relaxing stroll in the woods or summiting Mt. Denali, having the right sustenance to keep you happy, nourished, and energized is key.
Your hiking snacks can make or break your outdoor excursion. That might sound dramatic, but I believe it's true. Without the proper nutrition, you might hit a fatigue wall mid-hike (or as we affectionately call it, "bonking") and have to turn around early, or maybe your food doesn't keep well, is cumbersome to carry, or takes one too many steps to assemble. I believe being smart about your snack game is a sure way to have a great day outside.
Read on to learn about my top eight hiking snacks of all time and how I rate each one in these four categories: how packable it is, how easy it is to eat, if it contains a good mix of proteins, fats, carbohydrates and electrolytes, and lastly, how delicious it is.
Justin's has perfected nut butter, making a calorie-dense snack that's creamy and flavorful. With just a few ingredients and 17 grams of fat in a 1.5 oz packet, it's quick to pack, easy to eat, and gives your body the fuel it needs to keep on trucking. These packs are so good that I'm considering buying the Maple Almond Butter in bulk (just for me) this summer…
Packability 👍👍👍👍👍
Ease of consumption 👍👍👍
Nutritional power 👍👍👍👍
Deliciousness 👍👍👍
ProBars have VIP status on this list. They're so jam-packed with fuel that you could probably substitute one of these bars for your lunch. With 11 grams of protein, 22 grams of fat, and 43 grams of carbohydrates, this 400-calorie "meal" might even carry you up the mountain by itself. Start by trying the peanut butter chocolate chip flavor and go from there.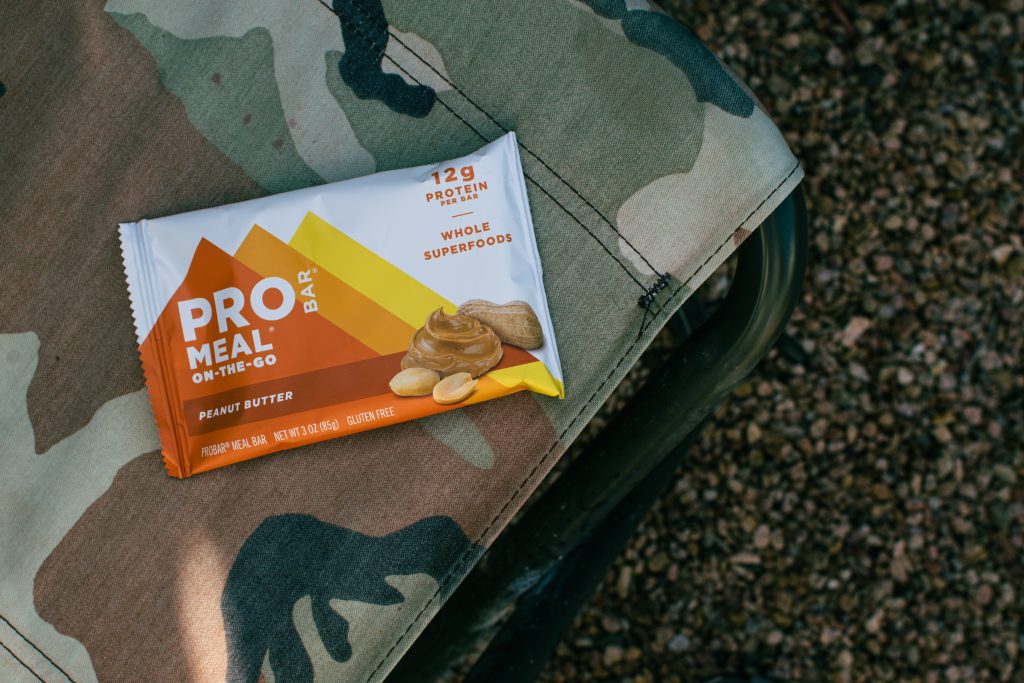 Packability 👍👍👍👍👍
Ease of consumption 👍👍👍👍
Nutritional power 👍👍👍👍
Deliciousness 👍👍👍
These scrumptious meat sticks, which are made with simple, non-GMO ingredients, have 9 grams of protein per 1.15 oz stick (equivalent to about 1.5 eggs). Protein is what builds and repairs our muscles, so we especially like it for those strenuous excursions. Consider eating protein as a gift for your future self – you might not feel the effects right away, but your muscles will thank you tomorrow. Chomps are also rich in sodium and fat, so you do get a little boost in the moment. Try the Jalapeño Beef flavor and you'll never want to eat summer sausage again.
Packability 👍👍👍👍👍
Ease of consumption 👍👍👍👍
Nutritional power 👍👍👍
Deliciousness 👍👍👍
Snack #4: Fresh fruits and veggies
One of the greatest treats to have with you in the wilderness is fresh food. There's nothing like biting into an apple or chomping on a carrot when all you've been eating are energy chews. While packing a few celery sticks might satisfy that crunchy-fresh craving, something like an avocado will really add fuel to your body in the form of unsaturated fat. However, while fresh fruits and veggies add great nutrition and flavor to your snacky repertoire, their packability isn't quite as easy as others on this list.
Packability 👍👍
Ease of consumption 👍👍
Nutritional power 👍👍👍👍👍
Deliciousness 👍👍👍👍
Let's talk electrolytes. When it comes to ensuring our cells are nourished and working properly, our bodies need a constant source of minerals such as sodium, calcium, and potassium – to name a few. We naturally get these electrolytes from food, but it's when we exert ourselves, and specifically sweat, that we need to be more active about replenishing them. This is why I like to keep a tube of Nuun tablets in my backpack for when I'm feeling dehydrated and fatigued. They are decently tasty, easy to carry, and might just save the day.
Packability 👍👍👍👍👍
Ease of consumption 👍👍👍
Nutritional power 👍👍👍
Deliciousness 👍👍👍
Trollis are straight-up sugar, and there's nothing wrong with that. These flavor-packed sour gummies hit the spot right when you need that quick glucose hit. They are my go-to emergency sugar when I'm bonking on trail, and they immediately make me the hero of the day when I share them with my friends. Delicious, yes. Nutritious, definitely not. Morale booster, 100%.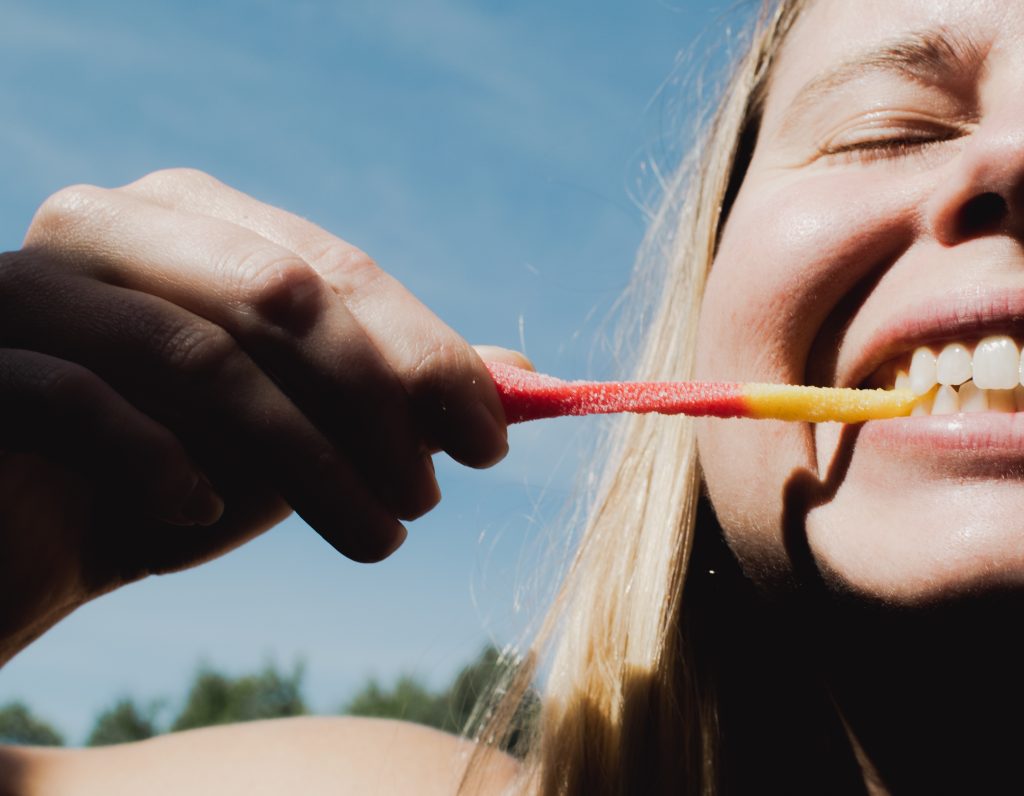 Packability 👍👍👍👍
Ease of consumption 👍👍👍
Nutritional power 👍
Deliciousness 👍👍👍👍
I have a lot to say about White Cheddar Cheez-Its. Besides the fact that they are objectively the best flavor of Cheez-It, they are notorious for satisfying those salty-crunchy cravings we tend to get out on the trail. Ever wonder why we crave salt during exertion? Not only do high sodium foods replenish the salt we lose when we sweat, but they aid in our body's ability to absorb fluids (think electrolytes). Cheez-Its one downfall is that they can crush in your pack easily… but just remember, while they may immediately become cheese dust, the flavor never dies.
Packability 👍
Ease of consumption 👍👍👍
Nutritional power 👍👍👍
Deliciousness 👍👍👍👍👍
Even in the front-country, I always seem to have a pack of these fig bars in my bag. They taste great, aren't too sweet, and never seem to get stale. With about 200 calories per serving, these little guys pack a punch and are probably the most nutritious fig bar on the market. All of the flavors are good, but raspberry stole my heart a few years ago on the Pacific Crest Trail… and I'm still not sick of it.
Packability 👍👍👍👍👍
Ease of consumption 👍👍👍👍
Nutritional power 👍👍👍👍
Deliciousness 👍👍👍
Do yourself and your hiking partners a favor by saving your trip from turning into Type 2 Fun. Perfecting your snack game takes time and experimentation, but when you figure out your flow, it's magic. What are your top eight? Would you trade Trollis for Snickers? Peanut Butter Pretzels instead of Justin's Nut Butter? Clif Bars instead of ProBars? The possibilities are endless. Just remember, it's all about managing your energy so you can get after those outdoor activities you love.
---
About the Author
Eva (they/them) currently lives in the foggy landscape of the Bay Area. Originally from Colorado, Eva practically grew up with hiking boots on their feet and climbing chalk on their hands. After working at Outward Bound in both Colorado and California, they thru-hiked the Pacific Crest and Colorado Trails to raise scholarship money for Outward Bound California's LGBTQ+ courses. When Eva's not studying for their graduate degree in Traditional Chinese Medicine, they're most likely fixing bikes and exploring the Sierra Nevada.