Take a look into your gear closet. What do you see? Your favorite pair of climbing shoes with a little hole in one of the toes. That old rope that has been fine so far even though you've taken a couple of big falls on it. The harness that you've climbed with since…well, you don't remember when. If any of these sound familiar, it's time to think about replacing your gear. Whether you're climbing every week or a few times a year, your safety and that of your partner is the most important thing when it comes to climbing. 
The last thing you want to do at the crux of your next climb is think: "huh, can I really trust my rope?" We hope this helps you know when you should think about replacing your climbing gear as you prepare for the upcoming climbing season.
Disclaimer: Read manufacturer guidelines for all of your gear and use common sense. What follows are meant as general guidelines for a beginner climber. If you remember one thing, remember my basic rule with climbing gear: "when in doubt, throw it out."
Climbing Ropes
The most common answer I hear from beginner climbers on when it's time to replace your rope is: "after you take a big fall" or even "a few big falls." Though that answer isn't very specific, or necessarily incorrect, you should really be inspecting your climbing ropes more often than just after big falls. Use some of these basic guidelines below to get started.
Inspecting the Rope
There's a reason you neatly stack your rope every time you climb with it, and it's not just to make sure it doesn't get tangled while you're climbing. Every time you stack (a.k.a 'flake') your rope you should visually and physically inspect it for flaws to make sure it is safe to climb on. Here are a couple of red flags to look and feel for when inspecting your climbing rope (you can even do this right now while you read!):
Abrasions or cuts – especially if they reveal the inner sheath of the rope
Any soft or flat spots in the rope, which also can indicate damage to the core
Super stiff or really fuzzy, both of which indicate your rope has seen a lot of wear and tear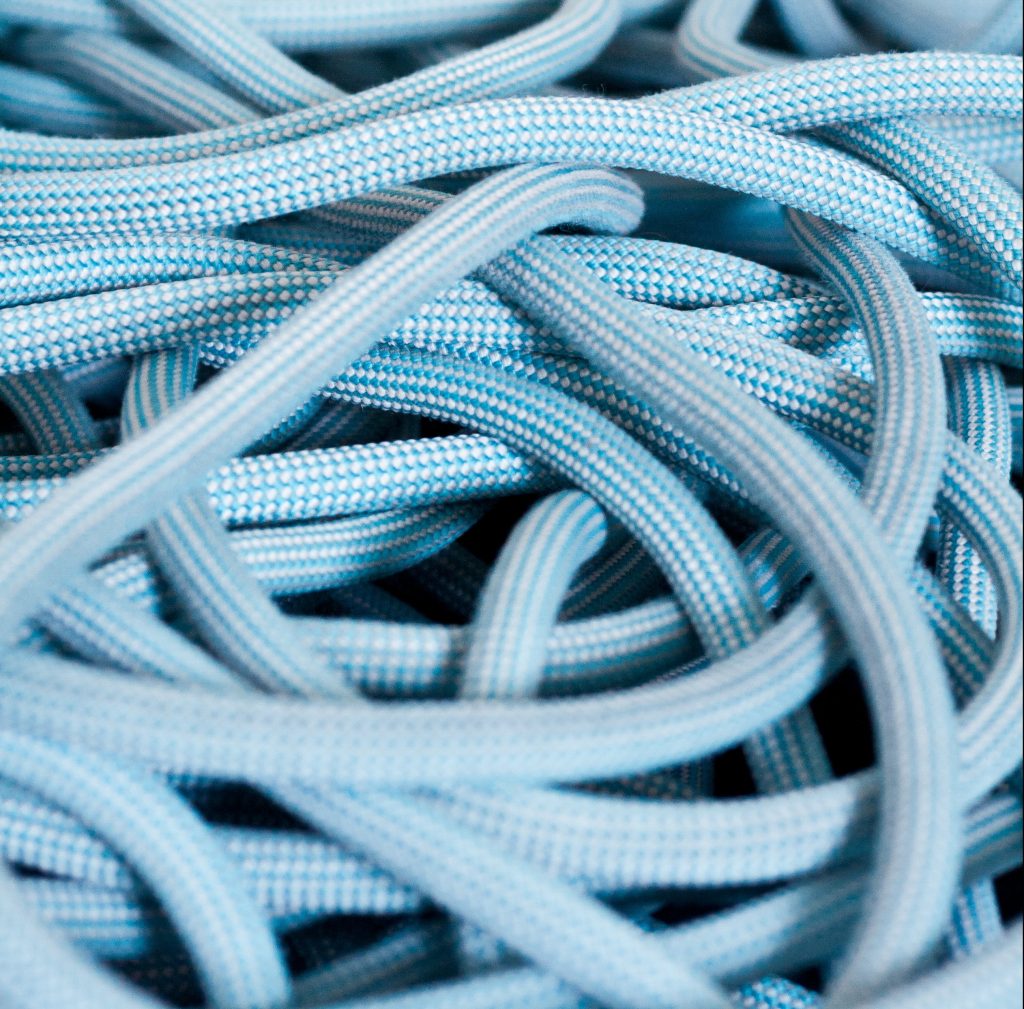 If you find any of the above near the ends of your rope, consider cutting and sealing the end of the rope to remove the weakness. This is done by wrapping tape below the weakness in the rope, cutting through the tape with a knife, and then using a lighter or candle to seal the ends so it doesn't fray. Always remember how much of the rope you removed as you don't want to come up short on your next long rappel or climb! For detailed instructions, check out this guide by Expert Climbers.
A Rope's Life Span
You also need to take into account how much you use your rope. Just like cars, ropes eventually have too much mileage and need to be replaced. You have to remember that the sun's rays, oils from our hands, air, dirt and so much more degrade your rope over time, regardless of how well you care for it.
Generally, if I use my rope every week, I replace it after a year or so. If I use it less, like once a month, I'll still replace it within a few years. When in doubt, just get a new rope—it's more than worth the investment.
And, hey, if you're worried about just throwing out your old rope—I get it. I hate throwing things away! Make a little rug or throw it in the back of the car or garage for a utility rope. There are countless ways to put your old rope to use. Just make sure it doesn't involve belaying someone hundreds of feet up in the air.
Climbing Harness
Of all the pieces of climbing gear, for some reason, people seem to hang on to their harnesses longer than they should. It may be because of an attachment with your harness from time and adventures used. To me, this is my most important piece of safety gear and I don't want to doubt its quality and integrity.
Inspecting harnesses is a bit more straightforward than ropes. Before each climbing day check for any abrasions, fuzziness or tears in the webbing and especially in the belay loop. If you find any of these, consider replacing your harness. You should also inspect the buckles to make sure they have integrity and ensure that the stitching around the buckles and in the harness are not coming loose in any areas.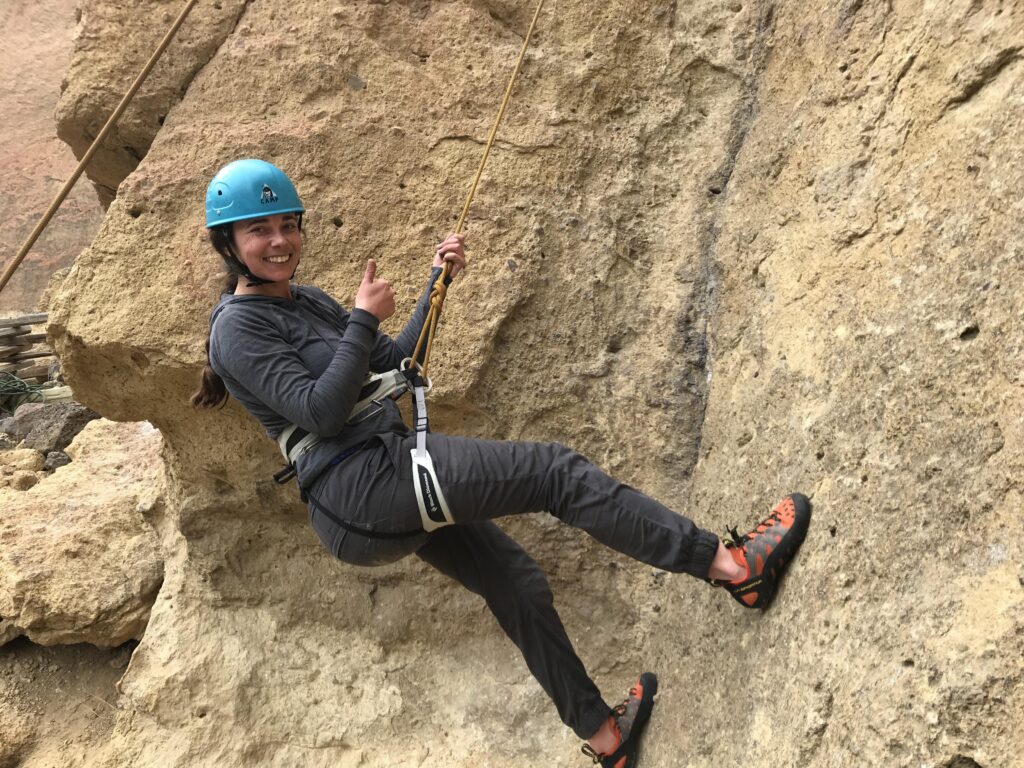 Regardless of how often you use it, I would not recommend keeping a harness for more than three years. If you use it weekly, replace it every year or two. Just like ropes, the elements degrade your harness over time, even without intense use.
Climbing Helmet
In comparison to other pieces of climbing equipment, helmets tend to last longer. I replace my helmet every 3-5 years for personal use. That said, anytime a helmet has a significant impact, you should replace it.
Helmets can be a little scratched and still be completely adequate. However, if there is a major dent, the chin strap is fraying, or there is any damage inside the helmet to the plastic or foam, you should replace it before the next time you go climbing. 
Carabiners
Carabiners tend to last a long time, however, you still need to inspect them as you do the rest of your climbing gear and use your common sense. Some red flags for carabiners include:
Excessive wear – Petzl recommends no more than 1mm of wear on a carabiner. This happens faster than you think if you use an aluminum carabiner on your belay device.
Stiffness or other issues with the closing or locking mechanism – if it has trouble closing, don't use it.
Any cracks or sharp edges in the metal
Dropping a carabiner while climbing – research suggests that aluminum carabiners can withstand drops without loss of integrity, but why risk it? I recommend replacing any carabiner dropped from high feet.
For personal use, carabiners can last 10+ years, assuming they still function properly and do not set off any of the red flags above. For more information on when to retire your carabiner, check out this guide by Weigh My Rack.
So…Go Retire Some Gear!
There are endless other types of climbing gear not mentioned here. That said, with these general guidelines, research and your common sense, you'll be well on your way to knowing the next time you need to replace the main tools in your climbing kit. Again, always check the manufacturer's recommendations for the specific gear you're using. And finally, remember: "when in doubt, throw it out!" Hope to see you out there climbing soon.
About the Author
Dan Susman is an instructor at the Colorado Outward Bound School who loves running long distances, climbing rocks and playing with other people's dogs. While not instructing, Dan is the Dean of Experiential Learning at the Midland School outside of Santa Barbara, CA. His favorite thing to eat on an Outward Bound course is homemade pizza with wild foraged mushrooms. Dan received his bachelor's degree from Dartmouth College and has a Master of Education from Harvard University.