"We have an unknown distance yet to run, an unknown river to explore. What falls there are, we know not; what rocks beset the channel, we know not. …"
–John Wesley Powell
Over a hundred years ago, the one-armed Civil War Veteran named John Wesley Powell successfully navigated the Colorado River system from its source to the sea. As a testament to the tenacity of the human spirit as well as our natural sense of wonder and exploration, this outdoor leadership expedition stands out as a landmark in the exploration of the American West.
As a 24 day Outward Bound rafting course, we retrace the steps of this famous explorer, virtually crossing the entire state of Utah from North to South, through 300 miles of rugged wilderness river corridors. The following outlines this experience through the eyes of those who have experienced it for themselves.
Starting on the Green River, we are enveloped by the canyon walls as we enter into the "Gates of Lodore" where the Green River mysteriously carves its way Southward through the Uinta Mountains. Entering the canyon we become surrounded by ancient rock that is hundreds of millions of years old. Over time, the river has carved this deep, seemingly inaccessible canyon, with its cliffs, wildlife, and most strikingly, its rapids. Although overall modest in difficulty, several sections of the river require that we pull over and "scout" to determine a safe route. With names like "Disaster Falls" and "Hell's Half Mile" you get a sense of what it must have been like to be a pioneer on Powell's famous expedition.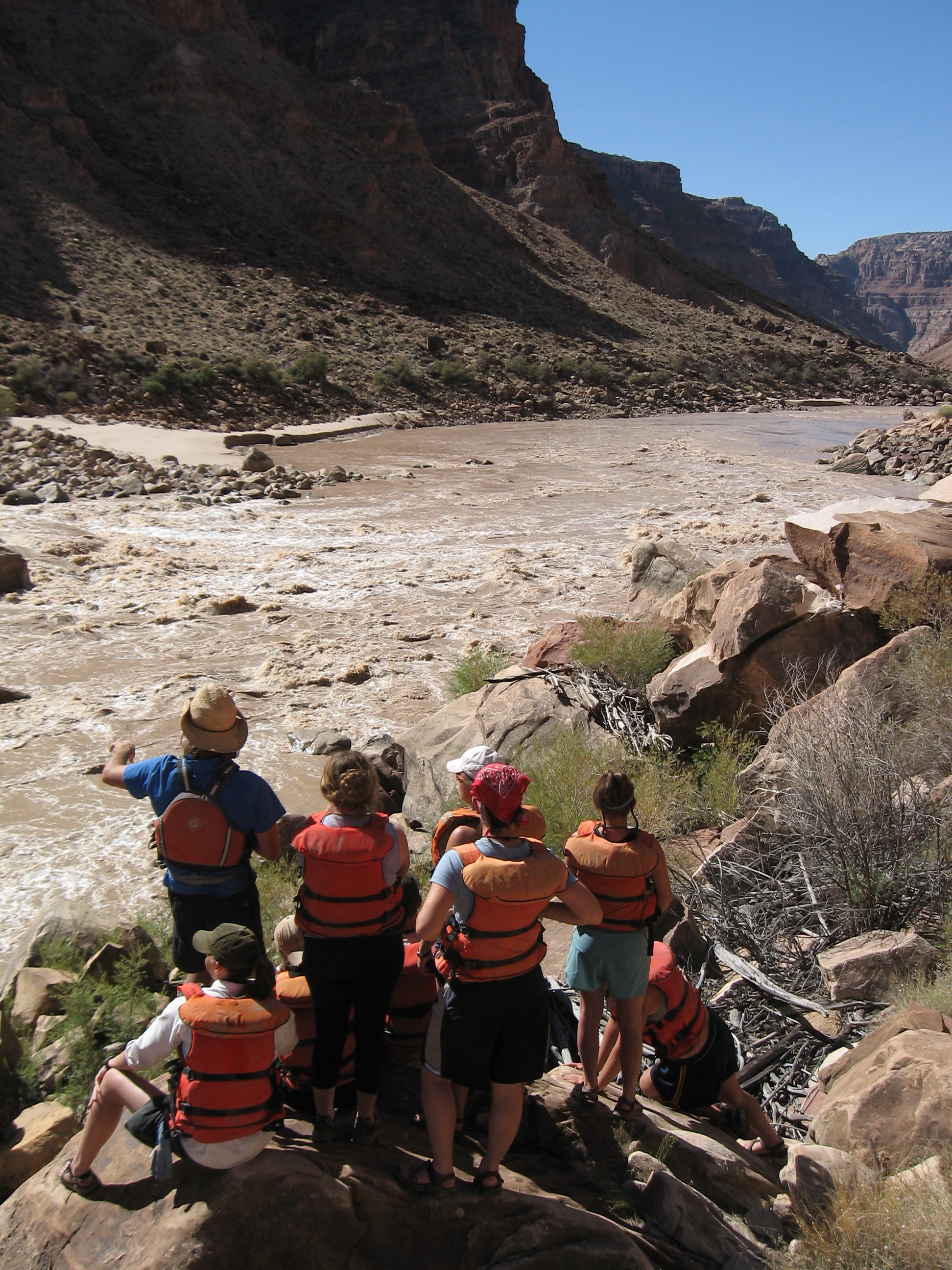 Farther down stream we find ourselves in somewhat quieter waters where we can enjoy the added challenges of maneuvering our kayaks and exploring the relics of the more recent past. Desolation Canyon is aptly named, and is actually deeper than the better known, Grand Canyon farther downstream. As a rugged and remote place, the canyon walls have harbored outlaws like Butch Cassidy, and we see for our selves the tools, buildings, and places where these characters from the "Wild West" actually frequented.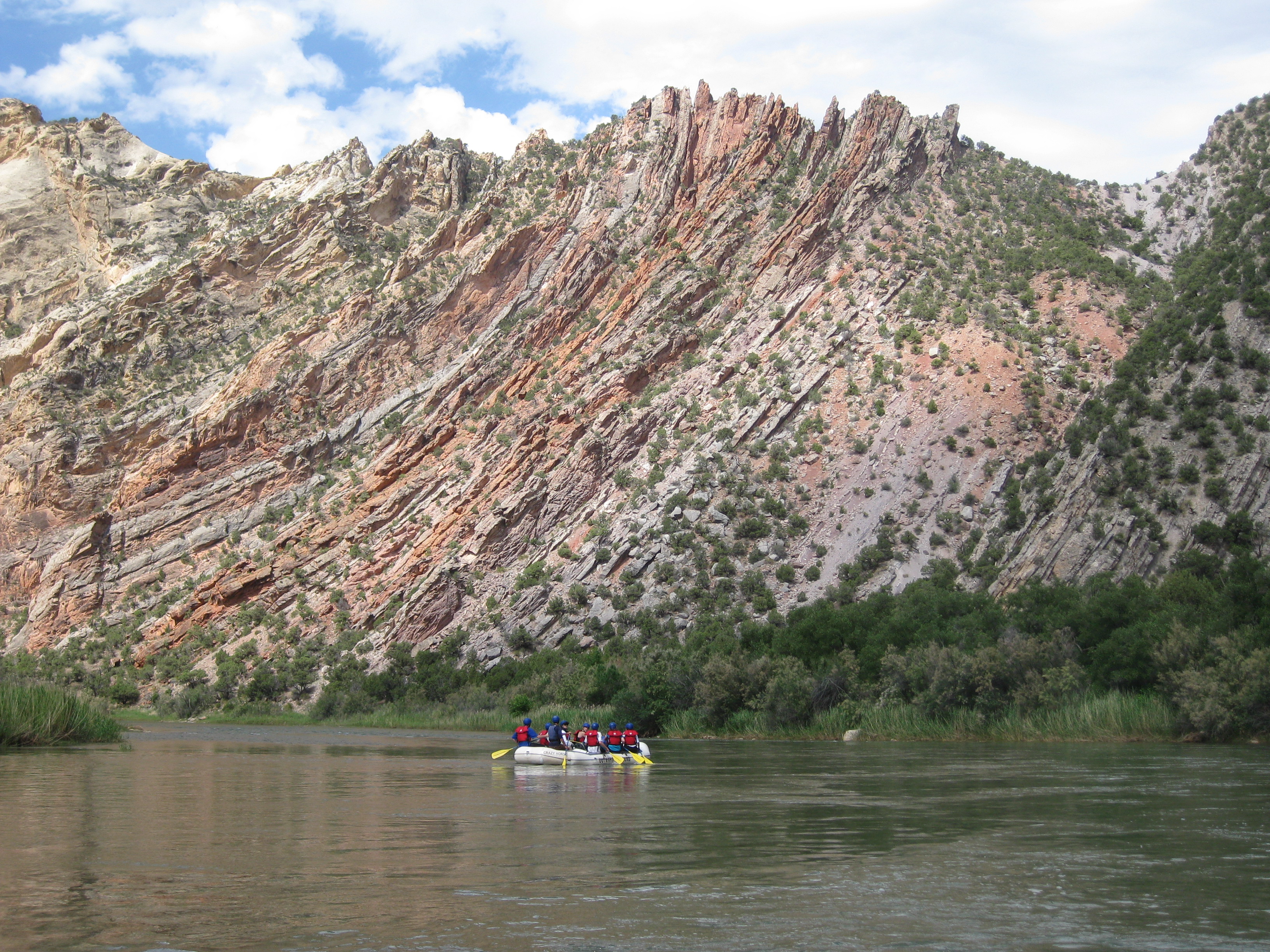 Perhaps even more incredible than the outlaw relics are the traces left behind from ancient cultures in the form of petroglyphs- images pecked into the rock that tell a story of a culture that existed hundreds of years ago. One has to wonder… What were these people like? How did they exist in such a difficult environment? And where did they go?

As we continue our journey the river doubles in size as the mighty Colorado River brings its water from the melting snow of the high country. Just down stream from the confluence of these two rivers, the rapids of Cataract Canyon provide an excellent challenge to even the most seasoned boaters. Named by Powell in 1869, a "Cataract" described the whitewater rapids that filled the Canyon. These rapids often required Powell to portage around them due to the difficulty they presented.
With today's technology and expertise around whitewater boating, these rapids still present a challenge, however we are ready for it. Our preparation as both a team and as individual members has been in the making for the last several weeks. With a good run in Rapid #5 we learn to anticipate the power and pull of this river, which is twice as big as anything we have been on so far. At the scout for Rapid #15 aka "Capsize" we reevaluate the possibilities: Start right? Center? What about that little rock at the top? Several factors come into play as we use our skills to asses an acceptable route and come up with a plan. As we push off it feels very much like the real world, where we assess, chose an option, and then carry it out although at this point there is no rewind button. We commit to our plan and adjust as necessary. In a sense, we are learning from the real world, for the "real world". As we continue downstream, we meet greater challenges with yet even greater skill and we emerge from our journey down the river, having gone through a transformation of sorts.
On the outside we are mostly the same, perhaps our clothes and skin show signs of being under the sun and in the water, yet our inside is what has changed the most. To learn to respect and engage with the river has taught us to push ourselves, problem solve, and most of all, work together. It is so ironic that in a world that is so plugged in, we had to "unplug" in order to truly connect with who we are, where we are going.
As one river rat put it best:
"Deep in the Canyon, Around the Bend- I hope in my heart it will never end."
Watch the video below to see what this course is all about:
Learn more about the Southwest Pathfinder Expedition with Outward Bound.