There probably isn't a person reading this who hasn't heard about the dire circumstances of the massive earthquake, subsequent tsunami, and complicated nuclear crisis that's affecting the people and environment of northern Japan. The images and stories of devastation and hardship have inspired the desire to give aid to these desperate hundreds of thousands in their time of great need.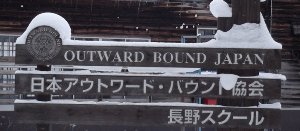 Outward Bound Japan (just one of 54 chartered Outward Bound organizations around the world) was affected, though not nearly as much as those in the northeastern coastal lowlands. Based in the Hida Mountains in Nagano province north-west of Tokyo, the OBJ base was spared the greatest force of the initial earthquake. Still, the Nagano Base Camp, as OBJ Chairman Koichi Inasawa reports, "experienced numerous aftershocks as the hypocenter move[d] south. Big earthquakes have struck Nagano, the location of Outward Bound Japan's school, and near Mt. Fuji. We are very concerned about the safety of Japanese people."
In true Outward Bound fashion, the employees of Outward Bound Japan have been busy in the last few weeks putting that concern into action. For starters, they considered the survivors whose homes, whole towns even, had been destroyed. As Chairman Inasawa puts it, "More than 450,000 survivors are housed in shelters with no electricity, little water and food, and only a few items of clothing to keep them warm through very cold nights. They have lost everything. Their homes were destroyed by the earthquake and swept away by the tsunami, along with all of their possessions, leaving them with only the clothes they were wearing."
OBJ raised an appeal to the local community to collect warm clothing, blankets, and any other articles that might help keep these thousands stranded and without power, warm through the very cold nights. They teamed up with a relief program called Outdoor GIENTAI, a project managed by the Japanese outdoor equipment company Montbell, to make sure these donated items were distributed where they were most needed.
Of course, as Outward Bound-ers, the employees of Outward Bound Japan were driven to participate in relief efforts through direct action. Though it meant suspending some programs, a group of them organized to travel to the nearby city of Sakae, more heavily damaged by aftershocks than the OBJ base camp, to lend a hand with clean-up and repair work.
Outward Bound Japan is now back on course with their regular program schedule; currently they are running a Wilderness Advanced First Aid (WAFA) training. The current crisis definitely spotlights how important trainings like WAFA and SAR (Search and Rescue) are that Outward Bound emphasizes in Japan and around the world (by the way, if you have SAR training and are interested in joining a response team, check out the NAVSAR website at www.navsar.org).
The efforts by OBJ and others to aid the survivors of the quake and search for more are still continuing. If you're interested in helping with these efforts, Google Crisis Response has collected a few of the main aid organizations' links to give to the Japan earthquake relief cause.
Outward Bound Japan is also accepting donations towards its direct efforts in earthquake relief; OBJ cannot process credit card donations, however, you can support their efforts through Outward Bound International – make sure to type "Outward Bound Japan Earthquake Appeal" in the "School/Project" field.