So you've signed up for an Outward Bound course and you're not sure what happens next. Lucky for you, you've already got someone on your team! Our Student Services and Admissions staff are ready to set you up for success. You can think of them as your pre-course advocates, as they provide you with necessary information for your course and answer any questions you have.
We asked a few people from our Student Services and National Admissions team to share information about their roles, advice for going on an expedition and more.
What is National Admissions and who is Student Services?
Laurel from National Admissions: The National Admissions team is often the first stop for anyone contacting Outward Bound. We help prospective students and their families find the best course for them. We learn a lot about our courses across the country to help answer the questions that families have. Most enrollments come through our office before being transferred to their specific regional course advisor.
Matt from Student Services in Minnesota: We're the front line for course preparation! We help students get ready for their course by answering questions, coordinating necessary paperwork and everything in-between. Students often feel apprehensive, nervous and excited before their course—and most likely a little bit of everything. I remember how nervous I was before my first wilderness experience as a teenager. I could have benefited from having a positive conversation with someone beforehand. Our job is to set students up to be successful as they prepare for their course.
What things do students contact you about?
Chelsea from Student Services in California: We're the main point of contact after a student enrolls and goes on a course, so they can ask us anything about gear, updates on medication changes, general questions about a course or if they would like to connect with other alumni.
Austyn from Student Services in Colorado: We answer questions about pre-course logistics (travel, gear, etc.); questions about life on course; any piece of the enrollment process (paperwork, payment, approval status); and any nerves or worries about their course. Each student's course advisor can answer 99% of their questions and if we can't, we will find someone who can.
Matt from Student Services in Minnesota: The only bad questions are the ones not asked! We love to chat about what the food will be like, what students should do to prepare, what types of animals students might see, and of course in Minnesota we love to talk about how amazing the Boundary Waters is.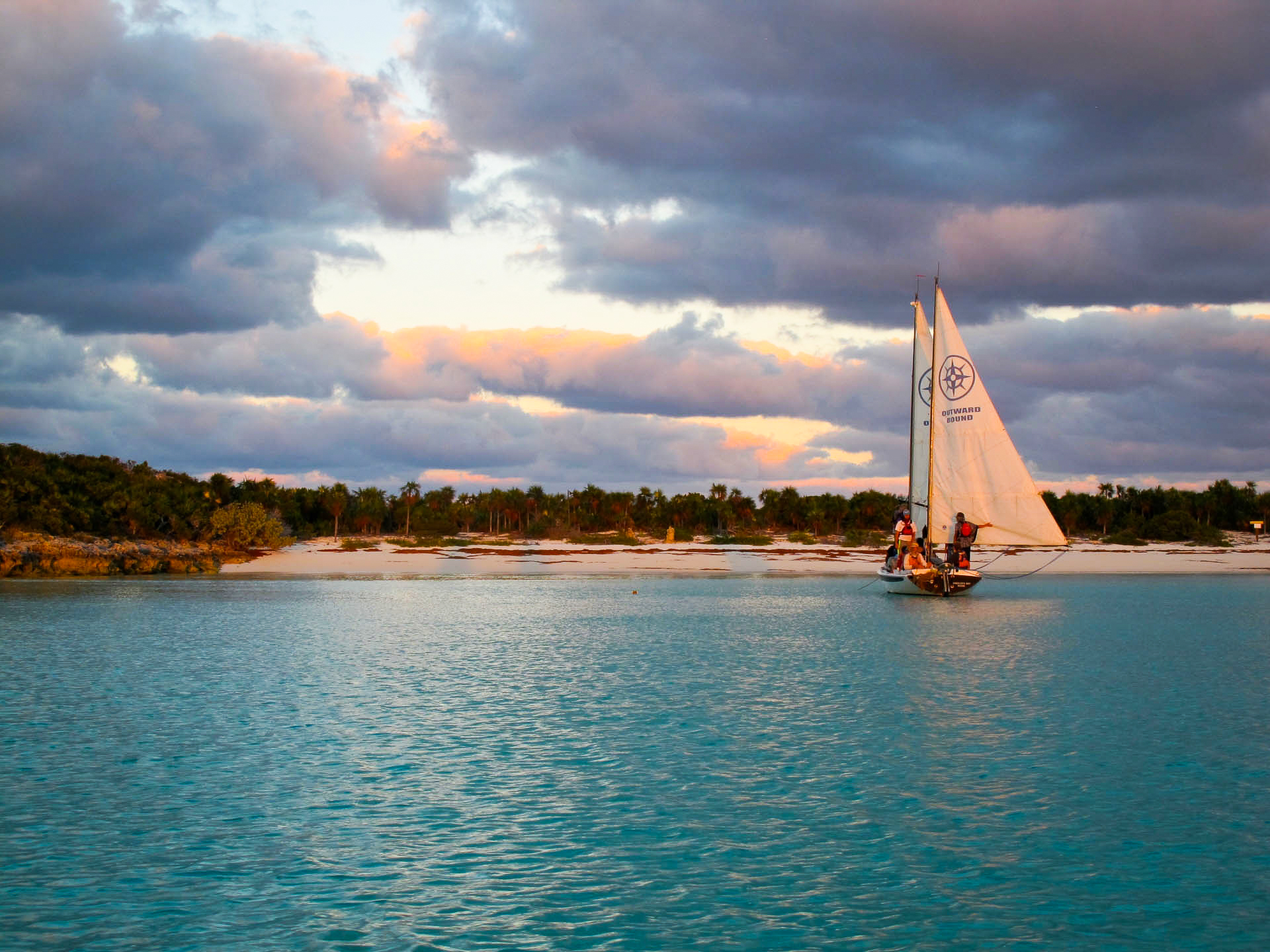 Why do you think outdoor education is a beneficial experience?
BJ from Students Services in California: Experiential education provides an equal opportunity for folks with all learning styles to explore their strengths and gain confidence. Removing the barriers of a traditional classroom setting, outdoor learning provides a connection to the natural world that opens minds and hearts to new ways of thinking, being and engaging. It's a unique forum to expand one's comfort zone, learn from natural consequences and develop deep relationships.
Chelsea from Student Services in California: There are so many reasons! One of my favorites is that students who may not thrive in a traditional school setting can grow, learn and lead in outdoor education. I love that.
Austyn from Student Services in Colorado: There are things that people can learn about themselves that only come from DOING. The good, the bad, and the ugly all come out when someone is challenged in the outdoors. Developing the ability to understand oneself in those mental states translates to "real life" in pretty amazing ways like better communication, a better awareness of self needs and increased determination.
Sydney from Student Services in Maine: Nature has a lot to teach us if we open our eyes. The experience of being in nature, but also the metaphors that are out there that teach us something about life, and living a good life.
Laurel from National Admissions: The transformation Instructors see in the first few days on a course is amazing; students form into teammates and then friends. Students, who at one point couldn't pull their heads up from their phones, become engaged and present. They learn to have each other's backs and work as a team to find a solution. They put the choice and the consequence together as they realize their mistakes. When students are faced with frustration from their teammates because they don't agree, they find a way back to communication and solutions and work as a group to resolve it. Students can't escape their problems by waiting until the bell rings and disappear until the next day, or shut their bedroom door and escape into social media. It doesn't work that way in the outdoors. The problem is there, and so is the solution. They have to compromise, listen to each other and make it work in real time. It's real life—which is what we're all preparing for. And it can be so much fun—the views, the evening meetings with your crewmates, early morning starts to hikes or paddles, the scenery, the wildlife.
What do students look forward to doing?
Nick from Student Services in Baltimore: Backpacking through the incredible wilderness of Dolly Sods and the Appalachian Trail and canoeing on the historic Potomac and seeing the vast array of birdlife are a few highlights. Students who get to kayak on the beautiful Nanitkoke river might see a rare Golden Eagle. They will also engage in meaningful lessons on leadership and compassion, and meet students from all over the country who are excited for an adventure and to make new friends.
Sydney from Students Services in Maine: Students can look forward to rock climbing on an island in Maine; "captaining" a sailboat; eating Maine wild blueberries on top of a mountain; backpacking some the most challenging sections of the Appalachian Trail; canyoneering in Brazil; eating spoonfuls of dulche de leche; scuba diving in Costa Rica; Panamanian sea kayaking and cultural immersion; providing service to local communities in Maine, Florida, Brazil, Panama and the Bahamas; and seeing incredible sea life (and wild beach pigs) in the Bahamas.
Trevor from Student Services in Oregon: Students should look forward to quickly bonding with a group of strangers, pushing themselves and fully immersing themselves in a wilderness experience.
What advice would you offer to someone going on an expedition?
BJ from Student Services in California: Arrive at your course with curiosity and openness. There is so much to learn and experience that can't be fully described in advance. The more willing you are to dive in, step outside of your comfort zone and engage with your group, the more likely you are to be amazed by yourself, the people and the world around you.
Austyn from Students Services in Colorado: Let go of expectations—both good and bad. 
Sydney from Student Services in Maine: Come with an open mind and be open to the new experiences you'll encounter. Be comfortable with being uncomfortable, and open to your own personal growth. It's important that you can roll with the new experiences and adapt to whatever comes. This also includes being open to the new relationships that will form. Sometimes the people you meet on an Outward Bound course are outside of your normal friendship group and you learn a ton from being open to different ways of seeing the world.
Trevor from Student Services in Oregon: Try to be active and fit before your course. You'll have so much more fun and be more comfortable if you are in reasonably good shape ahead of time.
Matt from Student Services in Minnesota: If you're feeling nervous about your course, that's absolutely okay. It wouldn't be Outward Bound if you weren't. I guarantee that every other student coming on your course will be nervous as well. That means you're ready to step out of your comfort zone and take on all that Outward Bound has to offer.
Laurel from National Admissions: "You don't know until you go," is absolutely true. The words and explanations just cannot give justice to the experience. I watch videos and read blogs of alumni who went on course and most struggle with how to explain their experience. It's not that they can't, it's that it's so hard to convey to someone else just how profound and life-changing the experience is.
What is one piece of non-standard (i.e. sleeping bag, tent, stove) gear that you love to take on trips?
Nick from Student Services in Baltimore: I like to bring stories, quotes or riddles.
BJ from Student Services in California: My kids love to investigate flora and fauna, so we often take quick reference cards for plants, trees, flowers and animals we might see on our trips. This allows us to learn about the inhabitants of the areas in which we are travelling and find out with whom/what we're sharing the space. Similarly, we try to learn about the indigenous people whose land we're visiting so we can honor and respect both their history and their current presence.
Chelsea from Student Services in California: I have a solar-powered light called the Luci light. It gives a soft, pretty glow. I like to bike camp (packing your camping gear on a bike), so I let the Luci light charge in the sun on my bike while I'm riding, and then I use it most of the evening.
Austyn from Student Services in Colorado: I love taking a coffee grinder and pour-over coffee for some extra luxury when I am camping!
Sydney from Student Services in Maine: I like to bring a sleeping bag liner (helps to protect sleeping bag from dirt), a moleskin journal, or a buff (a tube of lightweight, stretchy material).
Trevor from Student Services in Oregon: Ear plugs—they are great if you are sensitive to noise when sleeping.
Laurel from National Admissions: I love Gold Bond powder. It's like an air conditioner in a bottle. Before I go to sleep at night I use a little to help soak up the moisture of the day. Cool night breezes make you feel nice and cool and ready to sleep on a summer night.
What should students know about your program that they can't find anywhere else?
Nick from Student Services in Baltimore: We help students with a broad spectrum of backgrounds. Every student calls a different place home, some speak more than one language while others have very little experience in the outdoors. No matter where a student comes from, we help make them feel comfortable and confident before starting their expedition.
Trevor from Student Services in Oregon: You can't really describe the sunsets and sunrises on the river in Oregon, or how sometimes you can spot Monarch butterflies on the summits of Cascade Volcanoes. It's unreal.
Where is your favorite place to adventure near home?
BJ from Student Services in California: I absolutely love the East Bay hills. They are often overshadowed by other amazing places in the San Francisco Bay Area, but they offer hundreds of miles of hiking and adventuring in diverse ecosystems from regional Redwood forests to Chaparral landscapes with lakes and seasonal streams.
Chelsea Student Services in California: My favorite place to camp in California is the coast, near San Francisco. There are some stunning places accessible by bike, bus or even ferry sometimes. I think the Yosemite to Urban course touches on some cool places to camp. A mix of mountains with a city! It's ideal.
Austyn from Student Services in Colorado: The Colorado River! Stand up paddle boarding down the river on a crazy hot day is magical.
About the Author
Annie Holmes is an Instructor at the Colorado Outward Bound School who enjoys eating chocolate after a long day in the backcountry, walking for extensive amounts of time carrying a heavy pack and going on adventures with dogs. She has a degree in Psychology from UNC-Chapel Hill and enjoys talking about how our brains work and why we decide to do what we do. She also likes climbing up rocks and then rappelling down them directly afterwards and confusing her family by randomly going to places without cell phone service.