More students than ever before are finding their way into the wilderness and reaping the benefits of spending time on challenging adventures in the great outdoors. For many, these trips are new explorations in unfamiliar settings, purposeful replacements for "screen time" or desired getaways to connect or re-connect with waning skills and values. First timers who choose to go on an expedition with an experiential education organization like Outward Bound may not know what to expect or how to prepare beyond the written materials they're given. So we asked long-time guides and course experts what off-grid essentials they would make sure to take along. They shared a variety of special items that resonate with them to make wilderness life more successful and what first-timers should know before they go.
The Tangibles
Everyone gets a list of the basic equipment they'll need so that their health and safety on course is handled. If you stick to the equipment you'll absolutely have what you need, but we wanted to know about the items that experts like to take that go beyond the required items. What items energize you, remind you of home or make your experience that much better? Some items are universal must-haves, and some are unique to particular people and their personal likes and dislikes. These are the top tangible items that our course experts absolutely take with them if they can.
Shoes That Fit
Whether they fit your feet, the conditions or the need of the moment, footwear is the number one item to get right. It's not just about buying the right shoes or boots for the journey, but breaking them in and truly making them your own before you test them on foreign ground. If you're doing a course on water, try to pick up water shoes that are specific for that purpose. Old or beat-up sneakers work, sure, but they're not designed to shed water and keep your feet from marinating all day. Shoes that are made to quick dry make your feet very happy after a couple weeks on the river.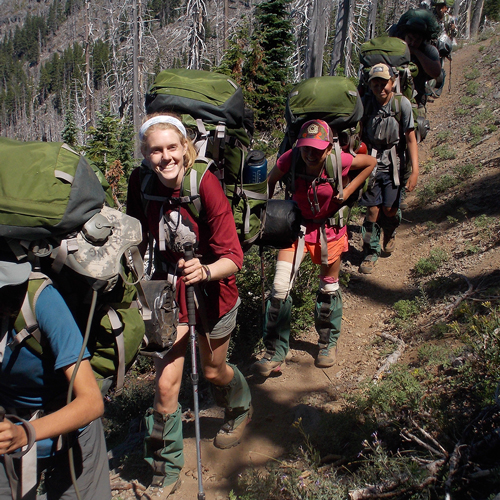 If you're ground-bound and hiking or backpacking is planned, wear and "get to know" your hiking boots at least a couple of weeks before you go. You want the creases worn in and the tread tested, and it's a plus if you find out where blisters are likely to appear so that you can take measures to prevent that. Like putting new snow tires on your car before winter pays a visit, hiking boots need to be on your feet (hopefully multiple times) and used before the true trail test is at hand.
Weather Wear
Rain gear and thermal underwear made the list, regardless of the season. The idea that a summer course can drop in temperature from 100 degrees to lower than 60 degrees in a few hours may elicit a laugh, but you won't think it's funny if you're too cold. Thermal underwear, even for summer courses, is considered vital. The same goes for quality rain gear. Experts recommend that you take along higher quality rain gear instead of hand-me-downs or thrift store finds if you can. Seams need to be waterproof and material needs to be rugged so that you can catch and throw back whatever Mother Nature tosses your way. If you're soggy, you'll be sorry.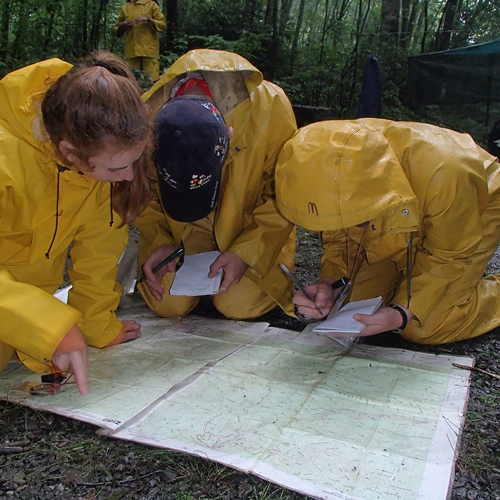 Sleeping bag liners were also mentioned as "pretty great" by those in the know. Liners can keep you warmer on cold nights and allow you a cooler option (other than your full sleeping bag) on warm nights. Both are good choices to have when you need them.
Unexpected Luxuries
Several unexpected items can lift your spirits or provide nice-to-have amenities during your stay in the wilderness.
If Gold Bond powder or baby wipes are listed as an 'optional' item on your packing list, bring them!  Due to weight and pack in/pack out requirements, some packing lists may not allow for these items, but if they are an option, both are so refreshing after a long day on the river or trail. According to several seasoned guides, you'll feel clean and refreshed if you can splash on some powder after a long day. They say it's like air conditioning and a cool shower all in one bottle. Who knew?
Experts also recommend taking a sarong. Whether you're male or female, a sarong can shade you from the sun, fend off bugs, and shield you while you change clothes. If you can't pack a full sarong, take at least two bandannas along for "whatever you might need them for" as they make handy accessories that can be employed as an arm sling, a tent pocket, a headscarf and various other uses.
A pack of cards adds to the entertainment options when there is time to play a game or two, and a Frisbee can do double duty as both entertainment and utility shelf in your dry bag or backpack. A well-placed Frisbee will keep your lip balm, headlamp and other little necessities at the top of your bag.
The last essential is what we'll call "shareable socks." When you go on a wilderness expedition, take one pair of socks that is on the gear list, but these are extra special. You protect these socks from being wet at all costs. You never wear them. You keep them safe and sound for days or weeks on end. Then, when things are at their worst, give your shareable socks to another person in your group who needs them. They'll be worth their weight in gold.
The Intangibles
There's so much more to prepare for than just your gear and your itinerary. These are "The Intangibles." Just like athletes prepare for a competition, those who are heading out on wilderness expeditions should prepare themselves physically for the adventure. Build up your exercise habits and clean up your diet so that you are feeling strong and healthy.
The best memories, stories and successes come from students and guides who talk about the "senses" that you need honed in order to get the most out of your experience. These senses often include:
A sense of readiness: Make sure you get any pending business done before you go so that you can focus on your wilderness experience and not worry about home life.
A sense of adventure: Your readiness and eagerness for the unknown and unexpected.
Common sense: Your ability, even in a new environment, to think critically about what makes sense and what doesn't, and to speak up if you think something doesn't.
Sensibility to others: Your receptiveness and awareness of the feelings of others, who will react to experiences different from you. Have a genuine curiosity about your fellow crew members and Instructors.  They are fascinating people with surprising pasts.  Find out.
A sense of purpose: Remember the reasons you came, so that when things get hard you remember that it has to be hard for you to learn and grow.
A sense of humor: Your ability to laugh at the weather, changes of plan and above all, yourself!
A sense of service: Be willing to help (around the camp, others, etc.).  Be a positive contributor to your group.
These are merely some of the many intangible elements that are considered essential for a great outdoor experience. Unanimously, it was determined that the intangibles are far more important than many tangible items you need for the outdoors.  Besides, they're much lighter to pack!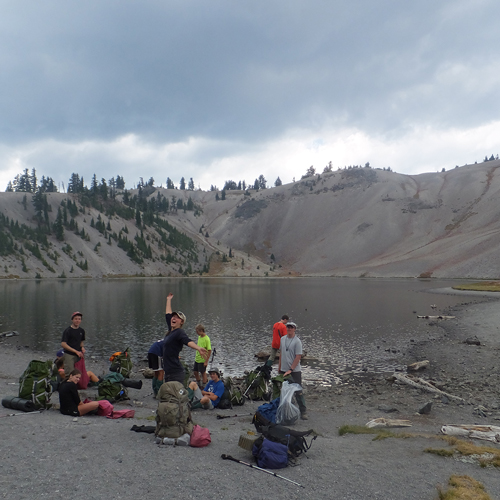 Knowledge Is Key
Those new to wilderness expeditions will need to know a few things that nobody seems willing to tell you up front.
First, you can live without your cell phone. It's actually very freeing.
Second, all of your gear, clothes, etc. will get completely filthy. Don't bring your favorites or, if you do, expect them to be trashed at the end. Consider living for 28 days in the same t-shirt and you'll get the idea.
Third, prepare not to poop for the first few days. Yep, we said it. Going to the bathroom isn't the same when you completely change the foods you eat and flip your routine on its side. Do everything the Instructors tell you about drinking lots of water and eating the right fruits and snacks and the situation will resolve itself.
Fourth, try everything. Every activity and everything the Instructors ask or offer is available to build your experience. Give it a try. If something is happening in the middle of the night, like stargazing or someone sees a bear or there are people laughing, wake up and join in. Those chances don't come around often in life, and you won't want to miss anything.
Fifth, find the fun. Find the funny people in your group and start enjoying them from day one.  Even challenges are better when you're laughing and a sense of humor is as important as hydration when your trekking through the wilderness. Learn a few silly camp songs and be willing to sing them and teach them, regardless of the stage-worthiness of your voice.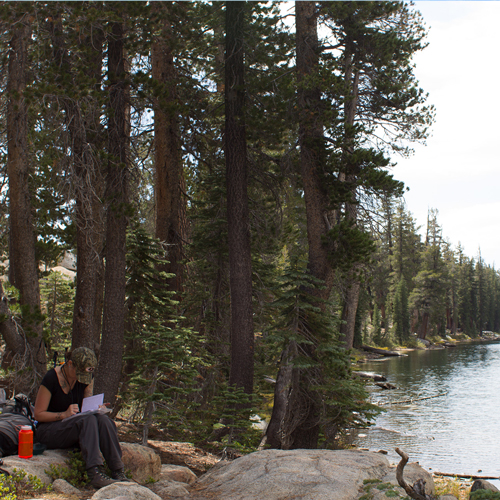 Seize The Opportunity
An Outward Bound expedition is an opportunity to see yourself through a new lens. It's a once-in-a-lifetime chance in a new environment with new people to wipe the slate clean and try on new behaviors and attitudes. Be willing to see the good that everyone has to offer, including yourself. Everyone has something to contribute, and if you're the person who looks for that, you'll have a big chunk of the essentials at your fingertips.
From first-timers to seasoned veterans, it's universally agreed that the essentials that you bring on course can have a huge impact on your experience. Consider these essentials when you're preparing for your adventure, and let us know what others you would add to the list!