Bliss Balls Recipe
It's been a while, but it's finally time for another recipe from the classic Columbine Cookbook from Colorado Outward Bound School. After conducting a not-so thorough investigation, we think this cookbook is from the late 60's. A really cool piece of our history, knowing that Instructors and students were in the backcountry cooking and devouring these recipes over 50 years ago! And, how much has backcountry cooking changed since the 60's, really? Not much. You'll see.
So, I have picked out a recipe to share with you that is still just as delicious and convenient as it was back in the day, Bliss Balls. These energy nuggets are great to prepare in advance and take along with you on your fall hikes and late season camping trips. Enjoy!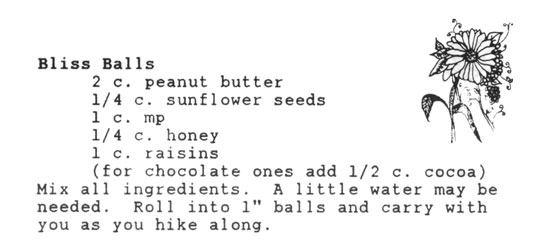 (mp = milk powder)
To personalize this recipe to your taste, you can substitute any dried fruit for raisins (dried cranberries or cherries). You can add chopped nuts and even roll the nuggets in shredded coconut – that's what I do.
Let us know if you have any requests for other backcountry recipes you would like to see!