No two leaders are the same, but confident leaders tend to have these five traits.
From communities to organizations, a confident leader is a person who can shape and guide individuals while making decisions to keep the world moving. They are visionaries, motivators and encouragers. And while it may seem like our favorite leaders are just naturals, gifted with the skills needed to guide, the truth is developing leadership skills takes time. Just like learning how to canoe or rock climb for the first time, charisma, enthusiasm and self-assurance are all learned and shaped with experiences, time and practice. 
Many traits make up good leaders. And based on observing behaviors, I've found that great leaders consistently possess these five traits:
Integrity
Communication and Influence
Self-Awareness and Learning Agility
Gratitude
Courage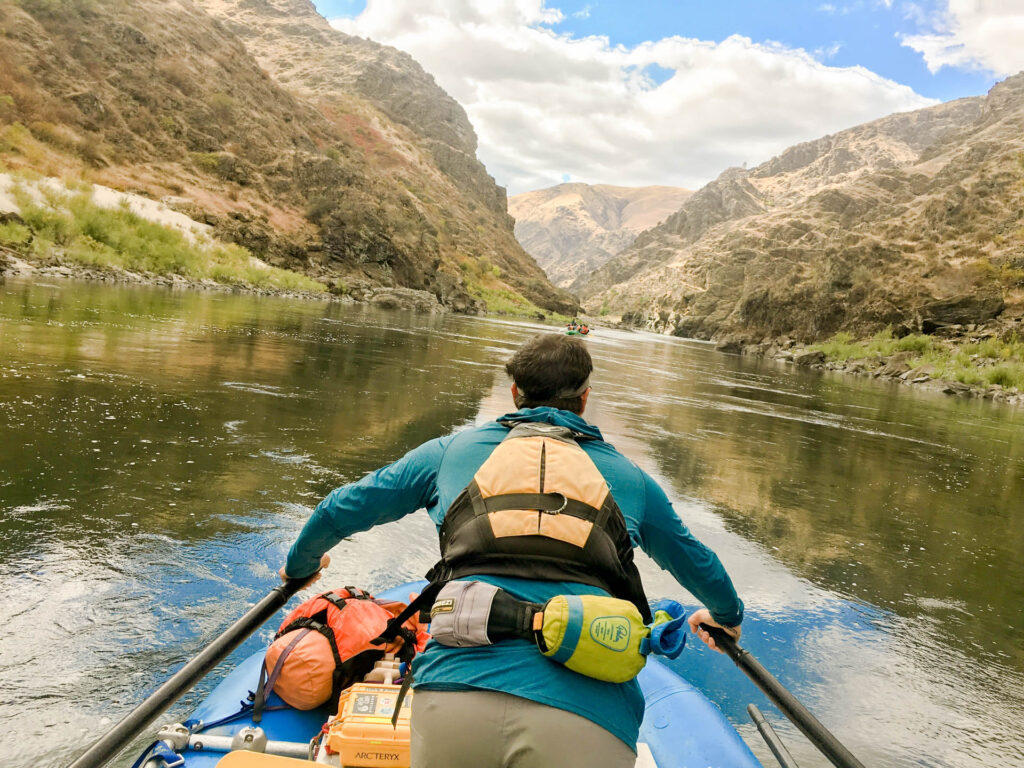 Integrity
Integrity is defined as the quality of having strong ethical principles that are followed at all times—even when others aren't looking. Honesty may be the main definition of integrity you think of, but it's also composed of the ability to build trust and establish consistency. The importance of integrity should not be glossed over. It is essential to building a team that will and wants to follow.
Within each Outward Bound course, it's imperative to keep both the emotional and physical health of your crewmates top of mind. Leaders who demonstrate integrity are able to draw others to them because they are trustworthy and dependable in their decisions. This trait is crucial when it comes to being a student on an Outward Bound expedition and showing up consistently day after day for your crew.
Communication and Influence
In order to lead individuals, you need to be able to communicate in various ways. From coaching to motivating those around you, having strong communication skills means you can listen and communicate with a wide range of people across different experiences, ages, abilities and backgrounds. This is so important. Because when it comes down to it, conversations can both improve culture and deeply affect the success of your strategy.
"When your influence comes from an authentic place, your transparency brings about authentic trust."
How you communicate directly correlates with your level of influence on people. Being an effective and confident leader requires you to communicate with logical, emotional and cooperative means. When your influence comes from an authentic place, your transparency brings about authentic trust.  
Self-Awareness and Learning Agility
Self-awareness and learning agility are both inward-focused skills. Having good self-awareness allows you to understand yourself, your feelings, emotions and motives better and how those affect the way you react and interact with those around you. For example, have you ever been around someone who says something to a group that falls completely flat? They may not know how they come across to others or how they show up, which makes it hard to be able to lead others.
"Strong leaders are strong learners." 
Being self-aware flows into your learning agility. Learning agility is your ability to learn through practice, experience and effort. It pushes you to be resilient when you face setbacks, failures or mistakes but it also gives you quick decision-making skills in unfamiliar circumstances. Strong leaders are strong learners.  
Gratitude
This trait may seem out of place for this list, but really, it's crucial. When it comes to breeding engagement, fostering positive interactions and building resilience in others you need gratitude. A leader who shows gratitude helps those around them acknowledge accomplishments. This trait, in turn, can encourage individuals to focus on success, build camaraderie and boost self-esteem. Being thankful will make you a better leader.
Courage
Courage manifest in many ways. It can happen when someone speaks up with a hard or unpopular opinion, or through voicing a new idea, providing feedback or even having a difficult conversation. Having real courage is a key trait among great leaders. It allows them to see discomfort or conflict as growth opportunities. Courageous leaders don't shy away from difficult interactions but rather welcome them in order to experience transformation and recognize fear. Leaders choose the right way over the easy way—even if it rocks the boat a little bit!
Becoming a Confident Leader
These five traits make up the backbone of leadership across the entire board. While it may sound like a lot, recognizing that leadership is a journey will help you foster and strengthen these traits.
"[Leadership] is a skill that's shaped through experience, application and learning."
Don't worry. Leadership isn't something you're born with, nor is it static. Even if you don't describe yourself with one or more of the traits listed above, leadership is a learned skill that you can develop. It's a skill that's shaped through experience, application and learning. 
If you are open to growth and willing to put in the time and effort to improve, you can become a more confident leader. Practice these skills during real-life experiences, such as in development training, school, work, or even an Outward Bound Leadership Semester. When you step outside your comfort zone there is never a lack of opportunities to grow and thrive as a confident leader.
Remember that leadership happens in a team environment and not a vacuum. You won't get far without the help and support of others. Being a leader means it's less about you and more about the group of individuals working to achieve a common goal. That is what makes the process of being a confident leader worth it, being a part of the journey!
---
About the Author
Hanna McCarthy is a former Outward Bound Instructor and now lives and works in Philly with her husband, Nick, and two dogs, Jelly and Waffle. She finds time each year to surf in new places and enjoys spending time with friends and family. Hanna now splits her career between a corporate job and teaching yoga, finding balance in her life.