Discover how leadership skills learned through an Outward Bound gap year program transition into lives of leadership in students back home.
You just finished up a gap year program with Outward Bound. You're ready to take a normal shower, eat something not made over a small flame outside and perhaps even sleep in a real bed. As you prepare to take on your next step post-expedition, you may wonder, "how will I use the leadership skills I've learned in a wilderness course in my everyday life? How does it translate?"
These are important questions to ask yourself after your course ends and while your experiences are still fresh in your mind.
We often say that the real work happens after an expedition ends. The moment when you step into your routine and work to apply all the aha moments you formed about yourself, the world around you and how you want to show up in everyday life. Below are four leadership skills practiced and nurtured throughout one's time at Outward Bound that will translate into the way you lead for the rest of your life. 
Listening and Communicating = Translator Skillset
Listening and clear communication can be tough skills to master as they require a high level of engagement, presence and self-less attentiveness. Often referred to as translator skills, listening and communication skills go hand-in-hand.
The more Outward Bound expeditions I instructed, the more I began to notice the efficiency at which students' translator skills increased tremendously day after day. The reason being that the majority of their tasks throughout the day revolved around teamwork, making it necessary for them to have to find ways to listen and communicate well. If a student doesn't listen to their teammates, they're more than likely going to do something incorrectly, get angry or lost. 
If you can't communicate effectively, you have a higher chance of getting frustrated, not being heard and generally left confused. To be an effective translator with 10-12 peers takes a lot of work, especially when you're tasked with building a shelter, navigating your environment and learning to survive unusual wilderness conditions.
Outcomes at Work
Seeing students start to thrive as they practice good listening and communication skills is one of the joys of being an Instructor. They go from being quiet to speaking up when it matters, from being distracted and forgetting important lessons to being present. Finally, they go from stubbornness to being open and flexible with others. 
"When you apply effective communication and listening skills, you're choosing to be present with those who need your attention."
Using your newfound translator skills in everyday life, at school or work will make you stand out in positive ways. When you apply effective communication and listening skills, you're choosing to be present with those who need your attention. This will help you as you build trust with those you lead and those that lead you.
Taking Initiative
During your gap year expedition, you may have learned quickly that taking initiative pays off in big ways. Why? Because everyone loves when things get done! And the good news is that taking initiative on an Outward Bound course looks the same as taking initiative at work or school. 
Taking initiative isn't limited to the idea of starting something first – it could also look like being the first person to ask for help, to question a decision or to try something new. Whether that's being the one packing up camp or starting a school project, by putting yourself out there and taking initiative, you're telling those around you that you're willing to work hard and be a team player. Over time, this will improve the relationships around you. 
Motivating Others
During Outward Bound gap year expeditions, all students take turns leading their crew through rotating "leader days" so they can experience both being a follower and a leader. At the end of the day, there is always an opportunity to share safe and constructive feedback with and from the crew on how they performed and how they can improve. We do this on expeditions because it's important to learn how to develop awareness and open the doors for positive behavior change and growth.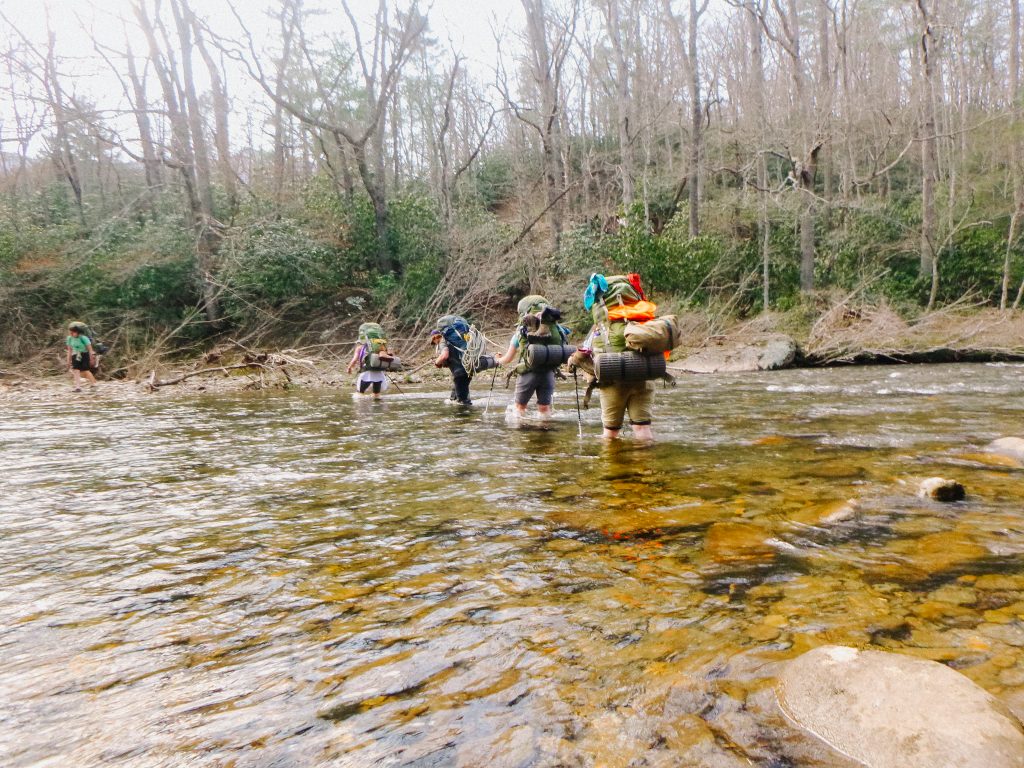 One of the leadership skills commonly discussed is one's ability to motivate the team—a student's ability to change behavior, boost engagement, grow interest, foster creativity and align goals among their crewmates. It's hard getting a team motivated to canoe across miles of water in 90 degrees surrounded by all sorts of bugs. And it's equally hard to motivate a team to continue to drive success at school or work. Motivating well requires combining empathy and translator skills to understand your team, get to know what's important to them and then use those things to help them thrive.   
Compassion
Compassion is sometimes overlooked when thinking about what makes up a great leader, however, instilling a sense of compassion in leadership is a game-changer. Outward Bound students and alumni view their failures as opportunities to grow and apply that approach to those around them. This essentially is compassion, and practicing it in this way, allows each other to help those who are struggling, apply empathy and work to build each other up. In addition, choosing compassion is the opposite of shifting blame and will help find solutions rather than keeping everyone stuck in resentment.
How to Apply Your Leadership Skills Back Home
There is no shortage of lessons to be learned, skills gained and new relationships to create during an Outward Bound expedition. And while you may not be able to use your newfound talent of making a comfortable pillow out of rocks, the four leadership skills above will transfer in significant ways into your everyday life. Like anything else, applying what you've learned takes practice and repetition. I've found that these tips have helped me in my leadership journey and will hopefully help you too:
Keep a journal and write down what you learned from your course. So often we forget the 

aha moments

 that can encourage us later in our life!

Talk about your experiences with others, share stories of moments that were meaningful to you and dig into why they were meaningful. Stories help you powerfully relate to others and can help you solidify the important takeaways in your heart.

Ask others for feedback on how you show up in your role and how you can improve. Being open to change will push you to become better each day.

Stretch yourself and try new adventures. Put yourself in new situations that will encourage you to think critically and use your skills.

Don't beat yourself up. When you try something that doesn't work, keep moving forward. Instead of getting hung up on failure, show how much you care by showing up and being present despite mistakes. Theodore Roosevelt once said, "Nobody cares how much you know until they know how much you care."
Ready to take on a new adventure? Check out these upcoming fall gap year expeditions!
Maine Coast & Appalachian Mountain Outdoor Educator
Pathfinder Boundary Waters Canoeing & Backpacking
Pathfinder Texas Big Bend Canoeing & Backpacking
Boundary Waters & Texas Big Bend Fall Leadership Semester
---
About the Author
Hanna McCarthy is a former Outward Bound Instructor and now lives and works in Philly with her husband, Nick, and two dogs, Jelly and Waffle. She finds time each year to surf in new places and enjoys spending time with friends and family. Hanna now splits her career between a corporate job and teaching yoga, finding balance in her life.