Originally published May 18, 2015 and updated on December 15, 2021.
"The cure for anything is salt water: sweat, tears or the sea." -Isak Dinesen
The benefits of the wilderness – and its positive effects on youth in particular – have been documented and celebrated through the ages. So it is natural that many families have found a wilderness experience to be an extremely healthy experience for students struggling at home or school.
At Outward Bound, we often hear from parents who have lots of questions about how our Intercept program differs from wilderness therapy programs. These parents want to find the best fit for their family – and the best fit for their son or daughter. Hear us out: we are not a wilderness therapy program, and we hope these key differences below help you and your family understand where your teen might fit best.
A Continuum of Care
For families struggling to find the right fit, it is helpful to think of these wilderness programs within the context of what Dr. Christine Norton, PhD, LCSW and Associate Professor in the School of Social Work at Texas State University calls "a continuum of care." Norton describes the wilderness therapy continuum as such: "On one side of the continuum there are programs like Outward Bound, that provide adolescents with therapeutic adventure experiences for personal growth and development… On the other side of the continuum are programs that are known as Outdoor Behavioral Healthcare, a modality of mental health treatment in which clinical staff provide therapy in a wilderness context."
According to Norton, each program, regardless of its place on the continuum, strives to "aid in the positive development of youth." And oftentimes, wilderness programs along the continuum might even look similar on a day-to-day basis.
Tyler Fish, Learning Specialist for the Professional Learning Lab with Outward Bound USA explains: "Although Outward Bound courses have more latitude in terms of what we can do and where we can go, there can be a lot of overlap between our programming and a wilderness therapy experience…travel, camping, having meetings – most wilderness programs have these things in common."
Norton agrees that wilderness programs share many important features. She explains that nearly every program involves one-on-one supportive conversations geared toward goal-setting, skilled instructors trained in relationship building and group facilitation, experiential learning, adventure, and an expedition-style approach. All of these things help set the stage for powerful development and growth in students.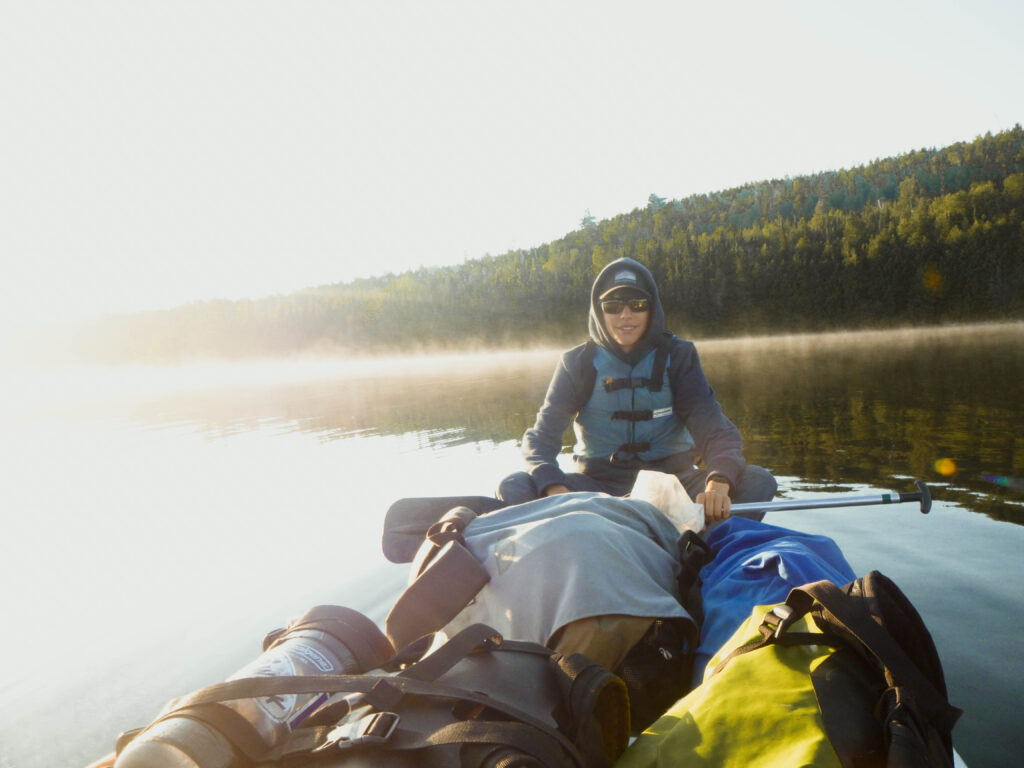 Key Program Differences
Along the continuum, each wilderness program differentiates itself in significant ways. Norton explains that there are three main factors that make wilderness therapy distinct from Outward Bound's Intercept expeditions.
Staffing
Outward Bound Instructors are experts in facilitation, group relationships, technical skills and wilderness travel. They are not licensed mental health professionals. They do not report to a clinical staff, nor do they consult with therapists or physicians outside of the medical screening and application process. A wilderness therapy program, on the other hand, has clinical staff (therapists, physicians, clinicians) dedicated to – and trained in – achieving specific mental health and substance abuse treatment goals.
Treatment Goals
"Therapeutic adventure" programs like Outward Bound Veterans, Intercept or Grieving Teens are not tied to specific treatment goals. These courses are driven toward addressing specific issues – but not necessarily according to a mental health treatment plan. During a wilderness therapy program, the sole focus is on a client's treatment goals. "Wilderness therapy makes very intentional use of the outdoor wilderness environment, and ties this environment to previous and future therapy," explains Norton.
Treatment Follow-Up
Outward Bound expeditions have a finite start and end. These courses do not include an ongoing treatment plan. Rather, the families return home with a list of strategies, communication styles and coping skills. Wilderness therapy programs, on the other hand "involve intentional follow-up, referrals and aftercare" explains Norton.
Who Participates
In addition to staffing, treatment goals and follow-up, wilderness programs vary in terms of who they are designed for and who they can accommodate. Although every student and situation is unique, there are a few key guidelines that can help families find the right fit.
Buy-In
Outward Bound Intercept students are often greeted with the phrase "thank you for making the choice to be here" when they first arrive on course. If the students cannot buy into participating on some level, they are usually not good candidates for Outward Bound courses, says Norton.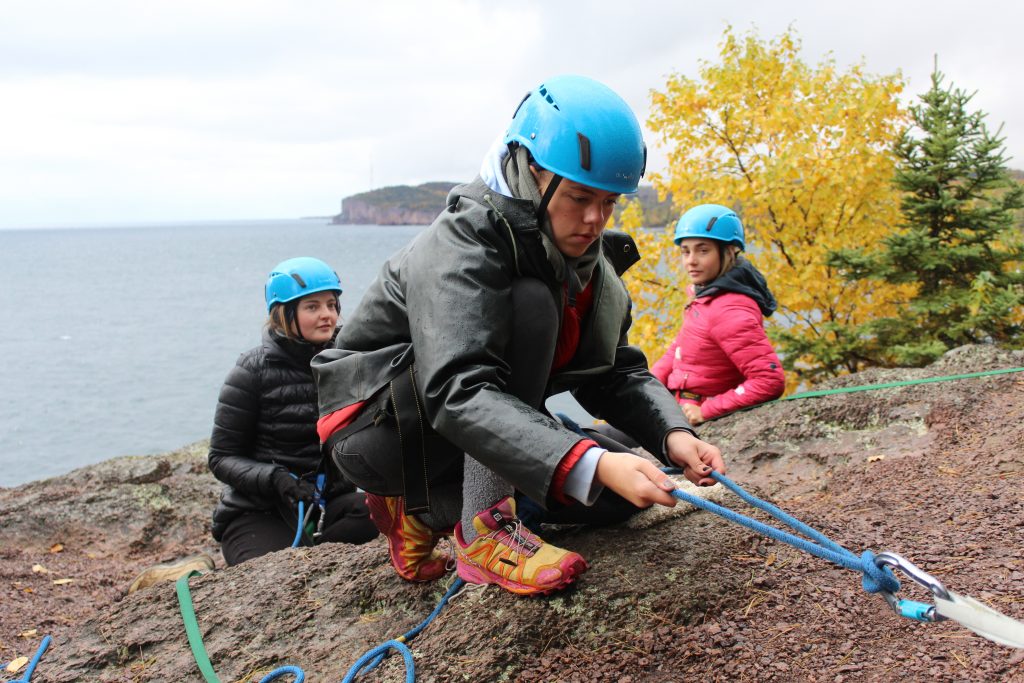 Wilderness therapy

clients, on the other hand, may not want to participate at all – and are sometimes transported to the program against their will.
Group Mentality
Outward Bound Intercept is best for students who are able to address their behaviors in a group environment – and willing to be with other people. "The Outward Bound student wants a group experience. They are introspective and willing to be enlightened. They are self-directed, independent. The more resilient the student, the better Outward Bound staff is at being able to help them become even more resilient," says Fish.
Wilderness therapy, on the other hand, works with clients who have an established pattern of damaging behavior with other people. "The goal is to keep them safe as much as it is to modify behavior," explains Fish. "These students often cannot rationalize; they do not have healthy coping mechanisms; they do not understand consequences in a meaningful way."
Risk Factors
Outward Bound Intercept requires that their participants have what Norton calls a "solid baseline of mental and emotional stability." The Outward Bound screening process is intended to keep every student on course safe. If the students cannot keep themselves or others safe, they are usually better candidates for wilderness therapy.
Because wilderness therapy programs have more clinical staff, therapists and physicians, they are better equipped to work with higher risk participants.
Early Intervention vs. Last Resort
Outward Bound Intercept courses are intended to serve as an early intervention for families who are beginning to see self-damaging physical or emotional patterns. "Sometimes an Intercept course can be a good fit because it pushes the student to the next step – it enhances the student and family's awareness," Norton points out. An Outward Bound course "allows them to do their own assessment of strengths and weaknesses and determine where they need more support." Although, in some cases, an Outward Bound Intercept grad may ultimately go on to a residential treatment program or a wilderness therapy program, the expedition itself can be the catalyst for that next important, and often life-saving, next step.
Wilderness therapy, on the other hand, sometimes serves as a useful last resort for clients who may have already been through drug rehab or a residential treatment program. "Wilderness therapy, with its meaningful separation from friends, family and community," says Norton, "is often helpful for individuals who have tried traditional therapy and it has not worked."
Conclusions
The great outdoors offers powerful contexts for growth and transformation. When it comes to wilderness programs, every option along the continuum of care aims to aid in the positive development of youth – whether that means students are accompanied by physicians, therapists and clinicians, or they are led by seasoned, compassionate Instructors; whether they are enrolled in a 28-day course or an 8-month journey. Because each program is designed to meet the needs of specific populations, it is important to look carefully at each program – and consider each student and their unique situation.
Outward Bound staff is on hand to discuss individual situations, answer questions and help guide families in this important next step. Check out our upcoming Intercept expeditions here or call 866.467.7651 to speak with an admissions advisor today.
At a Glance
Trying to understand the difference between wilderness therapy and Outward Bound Intercept? Here's a quick glimpse of how these programs stack up: