This winter, if you plan any winter camping trips, snowshoeing, backcountry skiing/snowboarding or any other outdoor activity our Hurricane Island Outward Bound School Winter Handbook has some really helpful information and tips to keep you warm. Let's discuss.
Staying Warm in Winter
Much of the concentration of camping and traveling in winter focuses on techniques used to stay warm and comfortable. By understanding your body's own ability to regulate temperature, the mechanisms of heat loss, and techniques that minimize heat loss and maximize heat production, you will be able to ensure your warmth and happiness in a winter environment.
Thermal Regulation
Humans are able to maintain an almost constant body temperature in spite of wide swings in the temperature of the environment. This control is achieved in two ways: through physiologic responses that increase or decrease heat loss and cannot be voluntarily controlled (such as shivering) and by deliberate actions to obtain greater protection from cold or to produce heat (such as putting on clothing or eating).
Mechanisms of Heat Loss
Heat is lost from the skin in four ways: convection, conduction, evaporation, and radiation. We stay comfortable when the heat we produce by metabolizing food and water equals the heat we lose to the environment.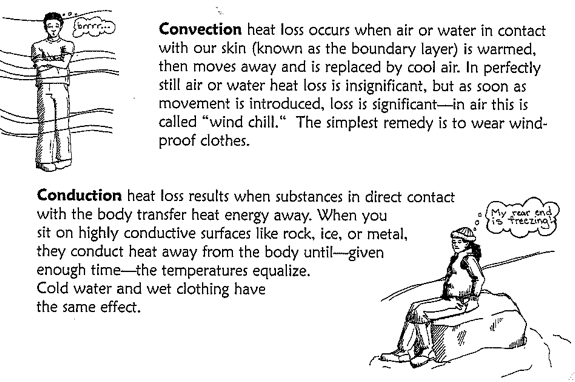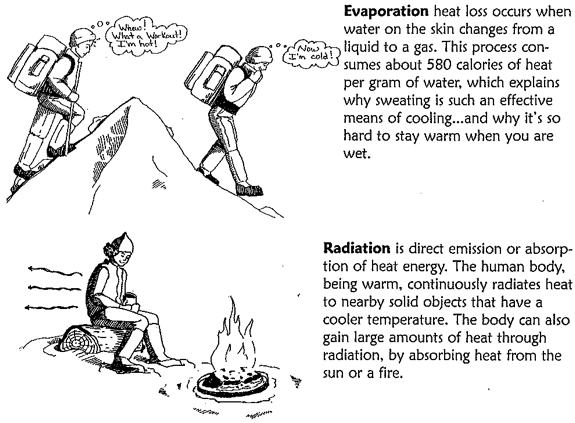 Tips for Minimizing Heat Loss
Use a layering system for clothing, and choose synthetic clothing over cotton because it wicks water away from the skin, preventing conductive and evaporative cooling.
Avoid excessive sweating by removing layers as you begin to warm up. Take off insulating and/or windproof layers before you begin vigorous activity and put them back on when you stop exercising (before you get cold). When working hard, take off your hat and mittens, unzip your jacket, and roll up your sleeves.
Keep clothes dry by avoiding contact with snow. Never sit or lie directly on the snow and wear wind- or waterproof layers to protect your insulating clothes.
Use vapor barrier liners (plastic bags) between layers of socks or felt liners, so that they don't become wet from sweat.
Use gloves when handling metal or fuel. If gloves or mittens become wet change into a dry pair and dry the wet pair.
Rest and camp out of the wind to avoid convective heat loss: use tarps, tick stands of trees or snow banks for shelter.
Keep warm air trapped inside your sleeping bag – keep it zipped up all the way, tighten the collar over your shoulders, and the hood snug around your face. Avoid breathing into the bag, so that moisture doesn't accumulate.
If your sleeping bag is too roomy, fill air spaces with extra clothing or tie up the foot end with a bandana.
Understanding and minimizing heat loss is only part of keeping warm in winter. Next post, I will share tips for maximizing heat production. I hope this gives you some good ideas for your next outdoor adventure. Stay warm!