For many parts of the U.S., this has been a serious winter! Tons of winter storms and feet and feet of snow. Hopefully, you put my last Outward Bound Handbook Series blog to good use and built yourself a snow cave on one of those "snow days" when schools and offices were closed. Well, fingers crossed, it's just about time to put that lesson to rest for the season, and we'll set forth on to summer backpacking tips. Yes, that's right, its time for the third Hurricane Island Outward Bound School Handbook Installment: Leave No Trace Principles.
On the Colorado Front Range, we are beginning to see the first signs of spring. This morning I walked outside to chickadees chirping. Spring is on its way and the warm weather has me dreaming about backpacking in the high country, alpine environments, wildflowers and spring creeks formed out of mountain snow melt. We are lucky to have the opportunity to get out and enjoy such pristine and fragile environments and it's our responsibility to protect them for others to enjoy. So, before your backpacking season ramps up, let's review some basic Leave No Trace Principals:
Leave No Trace
When we try to pick out anything by itself, we find it hitched to everything else in the universe.

– John Muir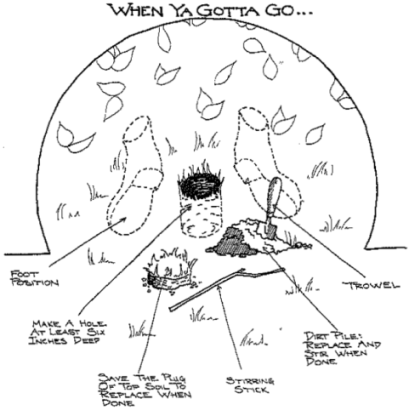 From its inception, Outward Bound has led the way in educating people about low-impact backcountry travel and helping them appreciate the earth's limited natural resources. Many of the early guidelines for campers, hikers and backpackers used and recommended by the U.S. Forest Service and National Park Service originated in Outward Bound instructor manuals.
Today, all students are trained in Leave No Trace outdoor skills and ethics, which were developed in a coordinated effort between federal land agencies, wilderness educators, environmental scientists, and outdoor retailers and equipment manufacturers. Students are also introduced to the concept of environmental stewardship: an acceptance of personal responsibility for maintaining the health and beauty of the natural environment.
By living a simple, self-reliant, low-impact lifestyle in the wilderness, you have the opportunity to analyze firsthand the effect of human activities upon the environment and upon other users of the wilderness.
We hope that you are inspired to deepen your ties with nature and appreciate the value of preserving wilderness.
Leave No Trace Principals
Plan ahead and prepare
Know the area and what to expect
Select appropriate equipment
Repackage food
Travel and camp on durable surfaces
Hike on durable surfaces and spread out
Keep group size small
Select durable ground
Use trails where they exist
Avoid fragile vegetation
Avoid places where impact is just beginning
Chose a shelter site with a small slope
Dispose of waste properly
Minimize soap and food residues in waste water
Use soap sparingly when needed
Pack out trash
Dispose of human waste in catholes or outhouses
Leave what you find
Minimize site alterations
Avoid damaging live trees and plants
Leave natural objects and cultural artifacts
Minimize campfire impacts
Be aware of fire regulations
Use only dead and downed wood if there is not a supply of driftwood
In high-use areas, use existing fire rings
In remote areas, use appropriate Leave No Trace techniques
Respect wildlife
Enjoy wildlife from a distance
Never feed wildlife
Store food securely
Minimize noise
Avoid sensitive habitat
Be considerate of other visitors
Avoid conflicts
Minimize crowding
Manage your pet
Respect the privacy of other visitors
Let nature's sounds prevail
Resources:
Hampton, Bruce & Cole, David, Soft Paths
NOLS, Leave No Trace: Northeast Mountains
I hope the review of Leave No Trace Principles served as a good reminder to you before you head into the backcountry this summer. Happy summer camping!