It's been three weeks since you awoke to the incessant screech of a cardinal and the intense beaming of a rising sun. You are no longer sleeping in a sweaty sleeping bag between people you met only a week ago. Your bug bites have healed. You tan has faded. You are officially out of the wilderness and back in your real world.
Maybe you had an incredible first two weeks back at home. Your parents made you special home cooked meals. You kept your room clean because it was way easier to clean your room than to keep camp clean and organized on course. You saw your friends. You caught up on your schoolwork. On the other hand, maybe you struggled to transition back into your regular life. You still argued with your sister. Your teachers were inconsiderate with the amount of time they gave you to make up schoolwork. You and your parents continued to disagree.
Either way, transitioning back home after being in the wilderness for a month is hard, and your Instructors are no longer there to answer questions or give guidance. However, even though your course is over, your journey is not. Here is a guide that may give some insight and reminders of how to use the tools you learned on course at home.
If you haven't gone on course yet and are considering the Intercept program, this guide will give you a look at some of the skills you will be learning and give you a head start on working towards becoming your best self.
Communication:
The first step toward communicating better with the people around you is to identify what type of communication you are using. Is it passive? Passive aggressive? Aggressive? Consider if using these types of communication are creating negative results, and focus instead on using an assertive tone. Below is a list of some ways to help yourself identify what kind of communication you are using and change it to help get the result you want:
Make the effort to notice how the person responds to you. If you are being aggressive, the person is more likely to be aggressive back.
Use NERP (Name, Eye contact, Request, Please). Following this format when communicating with others is a great way to start.
Remember CFRs (Concern, Feeling, Request)? Make a plan with your family to practice using CFRs at home. While it may seem weird to use CFRs in the real world, you and your family have practiced CFRs on course. If you are struggling to communicate assertively again, put the training wheels back on and practice using CFRs at home.

For Example: My concern is that you have asked me to clean my room five times today. My feeling is annoyed because I'm trying to finish my schoolwork first. My request is that you give me a deadline to finish cleaning my room so I can manage my own time.

Ask a friend or family member to call you out for nonassertive communication. Sometimes it's hard to self identify if you are being nonassertive because you have been speaking that way for a long time. It can be helpful to have someone you trust point out the times you roll your eyes or talk louder than necessary.
Look for compromise. You aren't always going to get what you want, but there are ways to deal with it that don't end in a yelling match.

For example, if you know it is your night to do the dishes, but your favorite TV show is on, talk to your parents before you even eat dinner to make a plan that will help you do both. Maybe this means you do dishes during commercials. Maybe it means you need to get them done by a certain time after the show ends. The more rational and proactive you are about compromise, the more conflict and nonassertive communication you will avoid.
Tip: Be proactive in avoiding nonassertive communication by making yourself a Daily Flow (or daily schedule). It should include chores, school, extracurricular activities, and free time. Share this with your family and ask them to hold you accountable to it so that everyone is on the same page about what you will being doing with your day.
Anger:
Remember 'step backs'? It's a course tool used to take space away from a situation before you become too angry to make good decisions or communicate assertively. Here is how to make a step back plan for your home:
Where will you go during your step back? (Not your room – too many distractions)
How long will your step back be?
Will you have a code word to let everyone in the household know that you are taking a step back?
How will you come back from a step back? Will you let each person in the house know individually? Will you call a short family meeting to explain what was wrong and solve the issue?
Here are some things that are especially important about step backs:
You shouldn't be talking to anyone and nobody should be talking to you. This is your time to take an uninterrupted break.
You need to let everyone know you are taking a step back.
You should use soothers like breathing exercises, listening to music, journaling, etc.
You need to let everyone know when you are coming back from your step back.
You need to resolve the conflict immediately after coming back from a step back.
Tip: Write your step back plan on a poster and put it somewhere everyone in the household can see.
Decision making:
It's important to understand that even after your Intercept course, you are still experiencing the cycle of change. Below is a graphic about the stages of change cycle: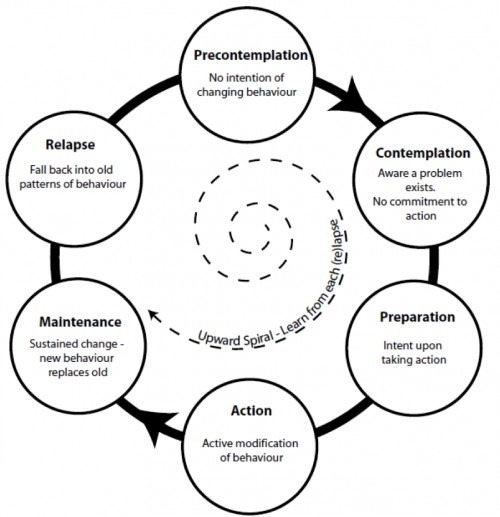 Parents, the most important part of helping your child through the stages of change is building a solid, supportive relationship between you and your child.
Once your relationship is built, if you think your child is in the pre-contemplative phase, try to poke holes in their excuses for their behavior without placing any value judgment on their behavior.
If you think your child is in the contemplative phase, continue to poke holes in their excuses and offer alternative ways they can act.
In the preparation phase, it is important to stay supportive of your child and continue to offer other solutions.
In the action phase, it is important to support your child by giving her the help she needs to make healthier decisions without suffocating her. This may mean that you need to watch her struggle and cheer her on from the sidelines, which can be extremely hard, but necessary to avoid enabling.
Remember that relapse can happen at any stage, and that relapse is normal. It doesn't mean you are back to square one, it just means you need to try something a little different.
Tip: Don't judge yourself (or your child) for being in any stage of change. Change is hard, and being able to identify that you need to change is half the battle.
The wilderness is a safe setting to practice these tools without any serious consequences. You have already done that. You have graduated from an Outward Bound Intercept expedition, which is an amazing accomplishment. Some of the hardest work is using what you practiced on course at home. It will take time and commitment, but that is normal. Change will come if you put the effort in. Remember, there is more in you than you know.
---
For more information on Intercept expeditions, go HERE. Call 866.467.7651 to speak with an Admissions Advisor who can answer questions, provide more information, and suggest upcoming Intercept expeditions for at-risk youth. For additional insight into the Intercept experience, read more here.
Sign-up for our newsletter to keep up on course options, resources, and special offers.
About the Author
Allison is a California native with a shark obsession. After graduating college in Los Angeles with a degree in English, she moved to Central Florida to instruct for the North Carolina Outward Bound School's at risk program. Allison is a lead instructor for Intercept courses and Florida's Department of Juvenile Justice's prevention program called FINS (Families in Need of Services). While not paddling Florida's central rivers with at risk teenagers, Allison surfs with the sharks that inhabit Florida's oceans, drinks coffee out of enormous mugs, writes low grade poetry, and watches lots of political dramas.