Learn about five organizations that are making a difference in the outdoor industry through their equity and inclusion work and inspiring more people to do the same.
In the past decade, there has been a collective effort to make the outdoor industry more inclusive and open to people from all walks of life. For a long time, the outdoors was a place of exclusion, where you had to have the most expensive gear, the privilege to gain experience with technical skills and a background of identities that enabled you to occupy space without fear of retaliation. Not anymore.
Those barriers to access and exclusion have begun to be torn down thanks to individuals with boots on the ground who have worked hard alongside organizations and communities to challenge the narrative and change the reality of the outdoors.
While we each have the responsibility to work toward equity in our own communities, some organizations have made equity work their entire focus and have centered their work around inclusivity in the outdoors. Below are five of those organizations we think you should know about who are making waves in the outdoor industry through their equity and inclusion work.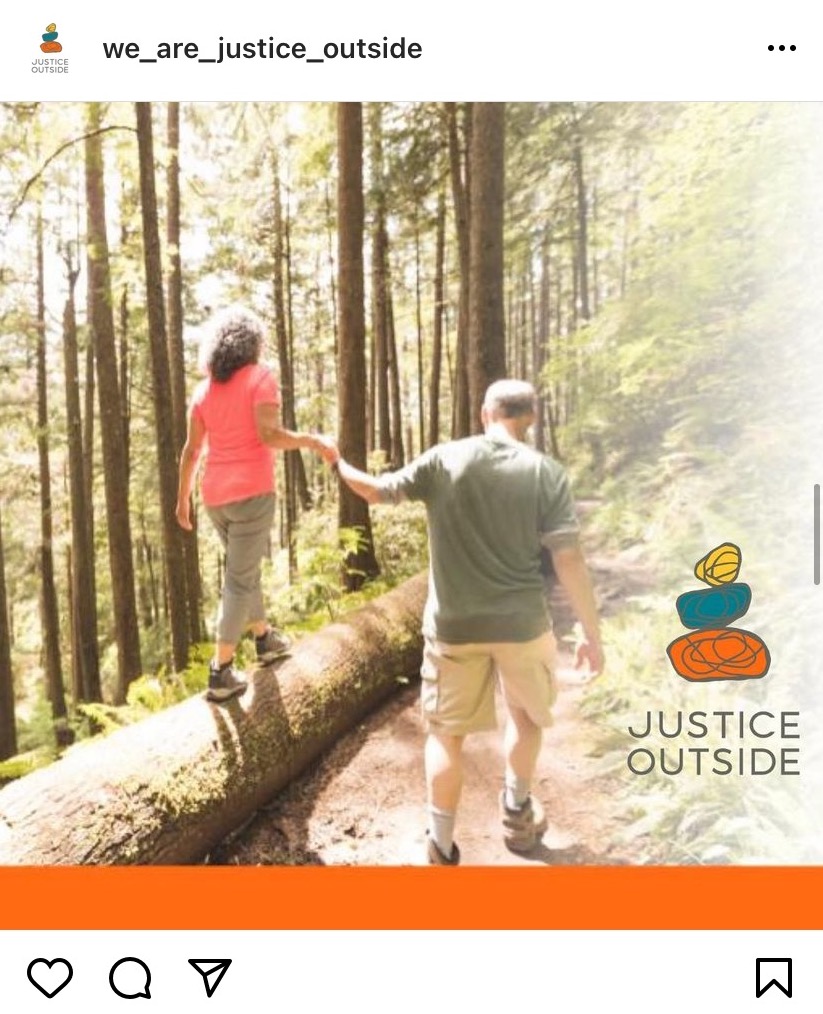 Justice Outside is an Oakland, CA-based outdoor collective centered around racial justice and equity in the outdoor industry. The organization, previously known as Youth Outside, has recently rebranded in response to a growing urgency in the need for accountability in the outdoor industry. Justice Outside does contract work with all kinds of outdoor organizations, including Outward Bound, helping them examine the internal structures of their work, identify areas where change and growth are needed and create a strategic plan to become more equitable.
The Bay Area organization also operates multiple programs for historically excluded groups of people in the outdoors, with a focus on elevating the experiences of Black communities, Indigenous folks and People of Color. Their "Outdoor Educators Institute," (OEI) is a semester-long program designed to provide the experience and tools needed for 18 to 25-year-old adults to pursue a career in the Outdoor Industry.
During my time as a Field Instructor for Outward Bound in California, I was honored to have the chance to lead Outward Bound trips with the students of OEI for three years. Each trip taught me vital lessons about what it means to be inclusive and how to critically examine the norms and structures of outdoor programming to weed out inequitable practices.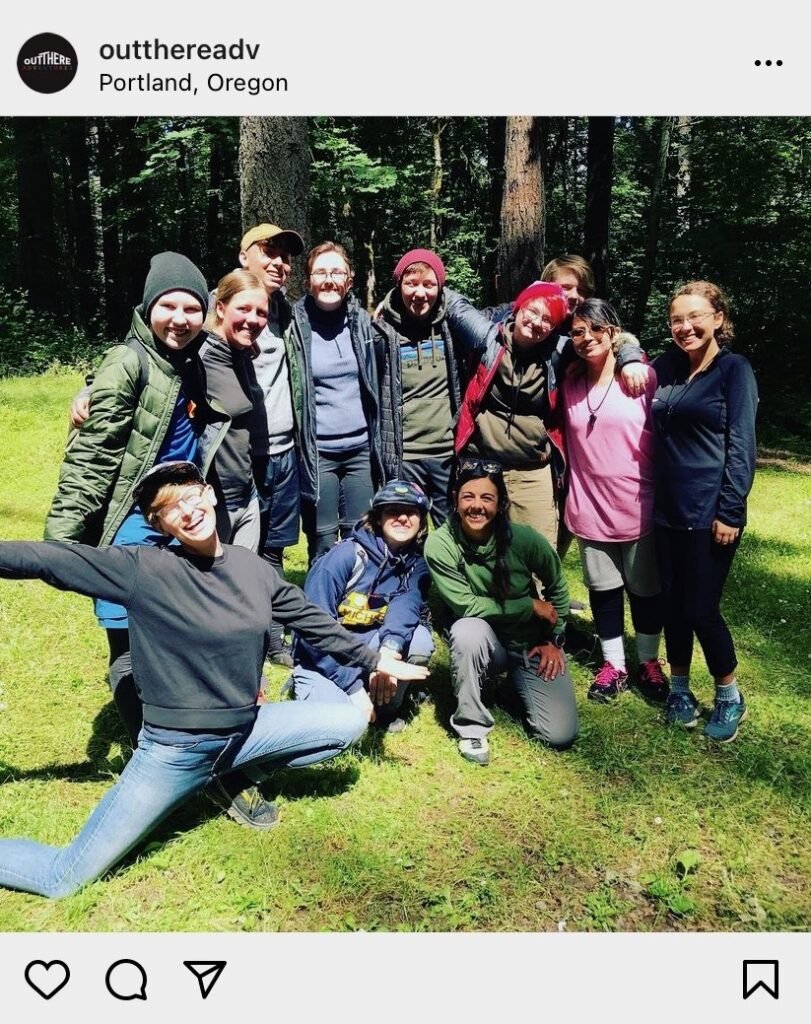 Out There Adventures was born when Elyse Rylander, based in Bellingham, Washington, realized the lack of resources available to empower LGBTQ youth to experience the outdoors. Elyse worked in the community to create day programs and meet-ups for Queer youth to feel included and held in nature. The program thrived and expanded, multi-day trips were implemented, and Out There Adventures even partnered with Outward Bound to create affinity programs for LGBTQ students.
In 2019, as an Outward Bound Field Instructor, I was able to lead one of these California-based Wilderness to Urban expeditions with Elyse and my good friend and coworker David. We traversed through Yosemite for a week and then commuted to San Francisco to work in the community for a week of service. As an LGBTQ person myself, this experience was indescribably powerful and life-changing, and it was incredible to be able to see the lives of queer youth being transformed along with mine. 
Beyond working with LGBTQ youth, Out There Adventures also partners with Washington DC-based organization, Pride Outside, to put on the LGBTQ Outdoor Summit, an annual conference where LGBTQ outdoor professionals can gather for three days to talk about our unique experiences, challenges and joys. As a three-time participant, I can say it was the highlight of my year each time. 
For the past three decades, PODER has been a powerful force of community empowerment in San Francisco's Latino immigrant community. PODER stands for "People Organizing to Demand Environmental and Economic Justice." Their work is at the intersection of environmental and community equity, based on confidence that community and family have the power to make waves of change in our world. 
Community-based solutions are what we need to make sure people have their needs met and can fight for the environment and climate justice. PODER's focus is all about healing the relationships between humans, as well as between humans and "Nuestra Madre Tierra," our mother earth.
PODER SF runs countless educational programs, primarily created for low-income folks, families and communities of color. These programs include voting registration, immigrant rights seminars, anti-gentrification art projects, climate equity toolkits and much more. One of their biggest programs is a campaign called Bicis Del Pueblo, which combines environmental justice with bicycling skills. Students from Southeast San Francisco learn all about biking through workshops, classes and community events.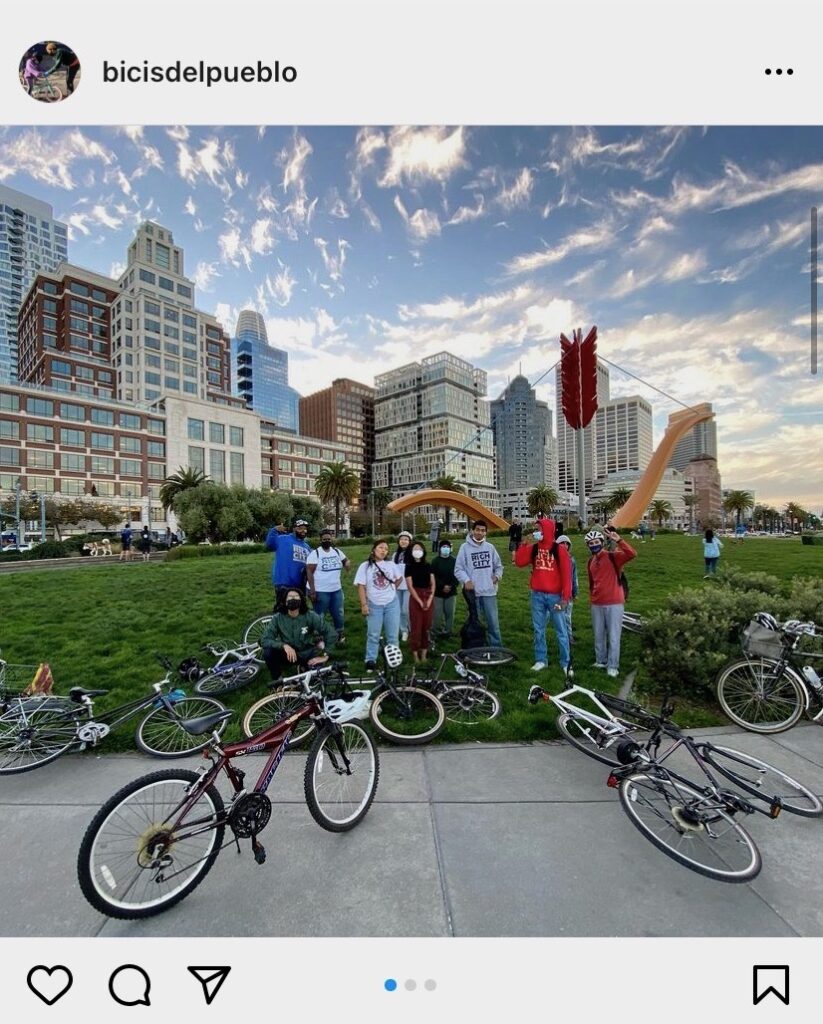 Through a cooperative model, Bicis Del Pueblo brings awareness to the importance of sharing skills, teaching each other and creating avenues for low-income people and communities of color to access the knowledge and skills of bicycling. Their work is intentionally created to combat the elitism that can sometimes come along with the greater biking community in the outdoor industry. The newest gear and most expensive bikes are nowhere to be found in Bicis Del Pueblo, but rather you will see community members mentoring each other in how to repair and build bicycles, maintaining them as an act of reducing waste and pollution and creating deep community bonds.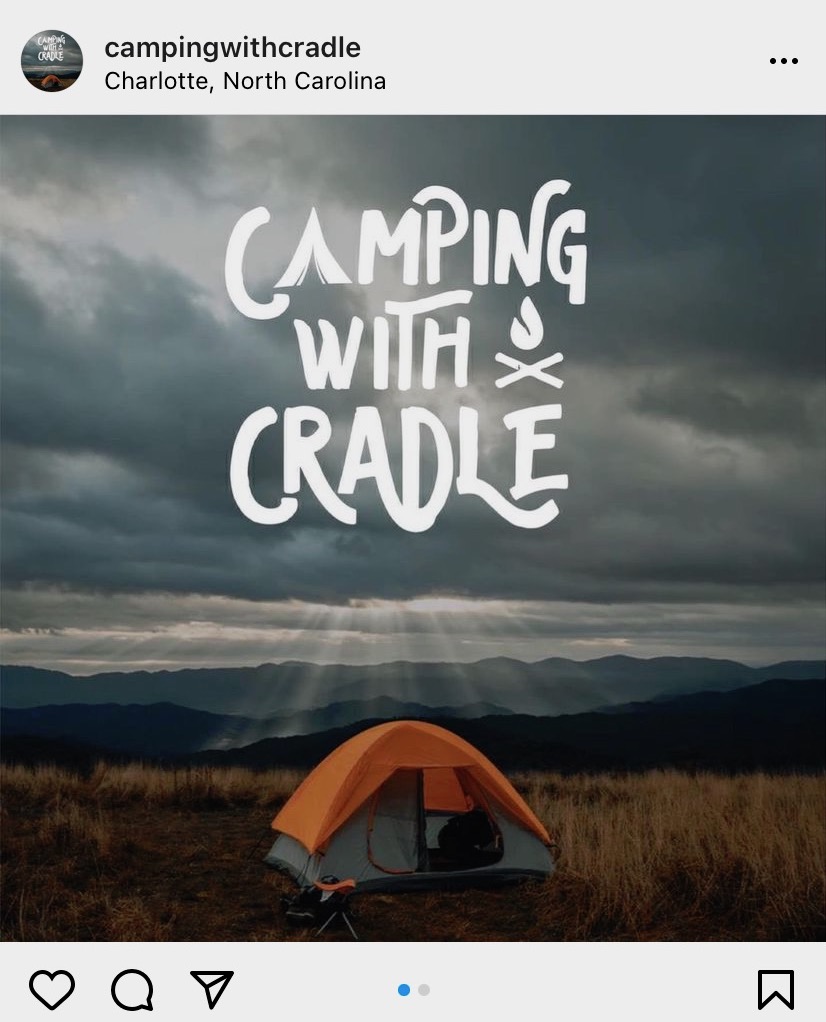 Don't make the mistake of thinking that progressive equity work in the outdoors only happens on the west coast! In Charlotte, North Carolina, Keith Cradle, a recent North Carolina Outward Bound Educator Program Alum, founded a program for under-resourced youth to be exposed to the outdoors. Camping with Cradle is a nonprofit that focuses on youth ages 12-17, and especially those who have never had a chance to go camping before.
Through a model of awareness and autonomy, Camping with Cradle ensures that students know what to expect before their experience, so they are not taken off guard, and to ensure they are set up for success. The organization prioritizes the autonomy of the students, inviting them to meet up and discuss the programs together before the trip. Gear is provided, so students can show up with nothing but the clothes on their back, and still have an epic wilderness experience. 
Camping with Cradle has a mission that values and pursues social mobility and strives to provide teens with the tools and resources they need to be successful, both on the camping trip and beyond. Using mentoring programs and intentionally crafted expeditions with only six to eight students, the outdoor environment helps youth work through the challenges they face in their daily life in Mecklenberg County, NC.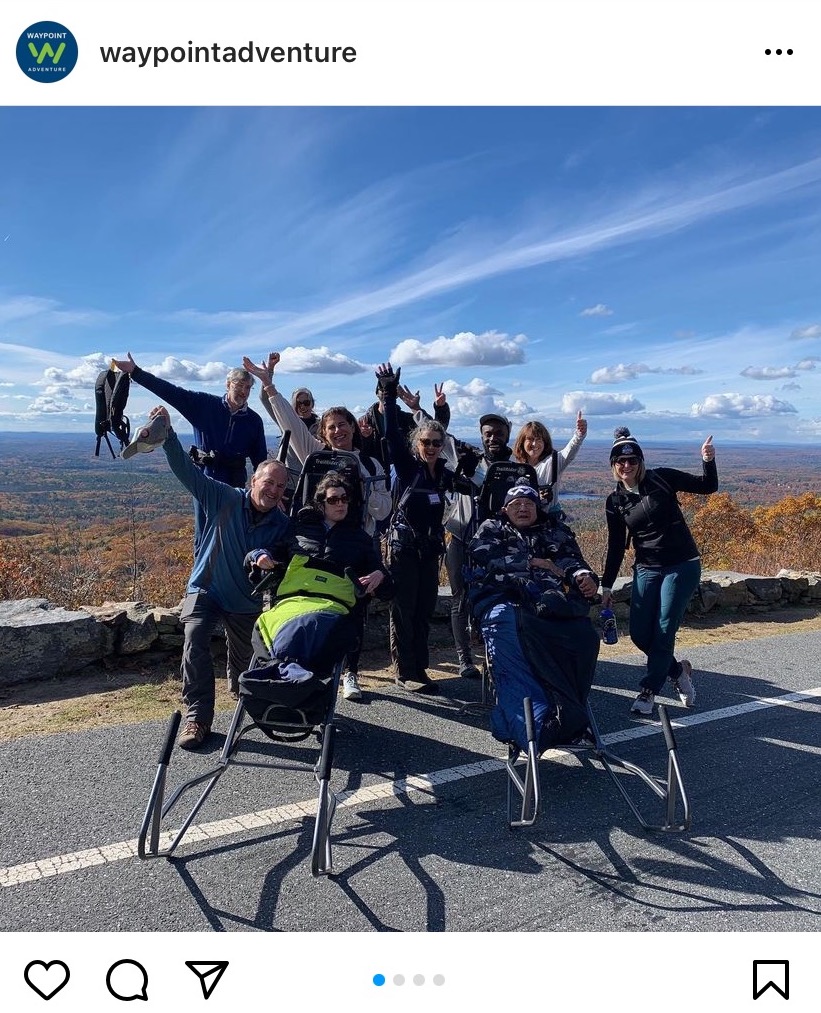 In the the Greater Boston area of Massachusetts, Waypoint Adventures operates every kind of outdoor programming imaginable, and it is all accessible to people with disabilities. They really have it all – from a fully accessible ropes course to overnight backpacking courses, to kayaking on open water in the scenic lakes of the northeast, and even school classroom-based outdoor education programs. Waypoint was established in 2010, with the mission to provide transformational experiences in the outdoors to people of all abilities. Everyone should be able to experience the life-changing power of being out in nature with a group of like-minded people, regardless of ability.
These experiences are about so much more than fun and adventure. Waypoint's real focus is personal and community growth: to use these experiences as a way for students to step into their individual and collective power. Disability is not a bad word, and Waypoint uses their programs in the outdoors to reframe the views on physical and mental ability that many of us have been socialized to internalize. A short browse through their testimonials is all that is needed to see just how powerful this program has been in the lives of their students and communities. 
Together We Can Make A Difference
Like the organizations listed above, together we are so powerful. When we work together, support each other and challenge each other, we can create a world where all of us, regardless of race, ability, sexuality or gender or any other aspect of identity, feel held together by community and nature. 
---
About the Author
Tilly Schoonhoven is a San Francisco Bay Area based educator, naturalist and poet, who goes by they/them pronouns. Tilly has worked in the outdoor industry for the past eight years, most recently at Outward Bound California as a Field Instructor, Equity Process Facilitator, Communications Contractor and Social Media Writer. They are passionate about bringing equity and justice to all corners of the outdoor industry, and they are known in their communities for engaging others in thoughtful and challenging dialogues to push the Outdoor industry forward. In their free time, Tilly enjoys taking care of their plants, and laying on the beach on a rare sunny day in San Francisco.